The Netherlands, or Holland: one of the most popular countries in Europe for international students. No wonder, with some of the world's finest universities, a modern approach to education and a welcoming environment.
Many people think that "Holland" and "Netherlands" mean the same thing. Even within the country, you may hear locals saying "Holland" when referring to the whole country. Technically, however, that is not correct.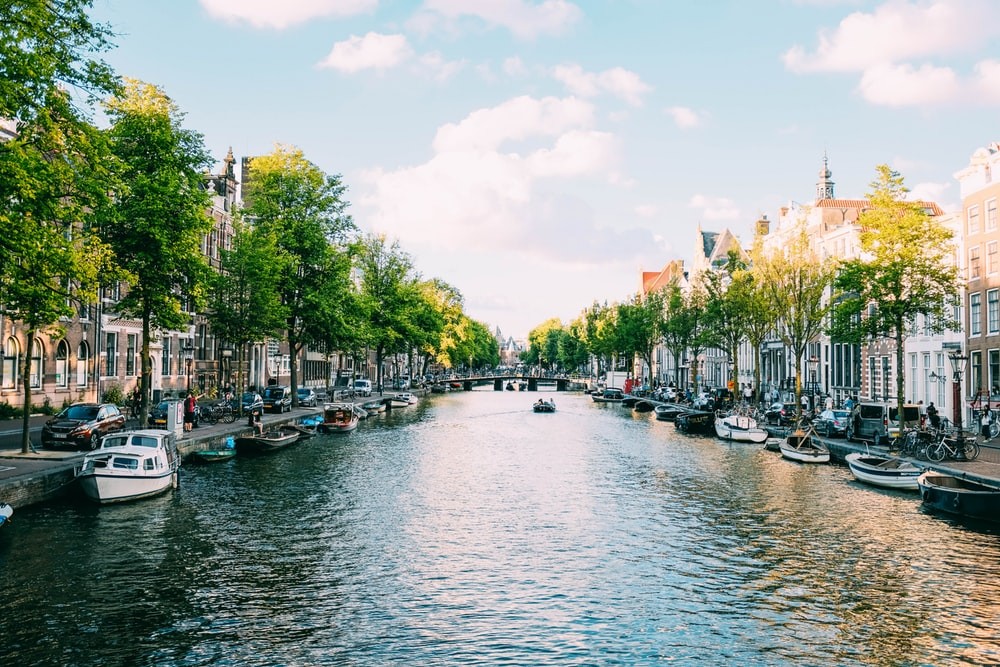 The country as a whole is called the Netherlands. It consists of twelve provinces; two of these provinces make up the Holland region, split into North and South Holland (Noord- and Zuid-Holland, respectively).
The widespread colloquial use of "Holland" as a term for the country as a whole originated in the 17th century when Holland was the most influential of the Dutch provinces.
The Holland region still represents a sizeable share of the population; the three largest cities in the Netherlands are located here – Amsterdam, Rotterdam, and The Hague (Den Haag).
Therefore, "Holland" remains synonymous with "the Netherlands" for many people. And last, but not least: The official organization that promotes the country as a study destination is also called "Study in Holland".
Education System in Netherlands
Education is compulsory in the Netherlands between the ages of 5 and 16. The instruction language is Dutch, but more and more schools and universities teach in English.
Higher education
There are two types of higher education in the Netherlands: research-oriented and profession-oriented:
Research-oriented education (wetenschappelijk onderwijs, WO) is traditionally offered by research universities.
Higher professional education (hoger beroepsonderwijs, HBO) is offered by universities of applied sciences (hogescholen).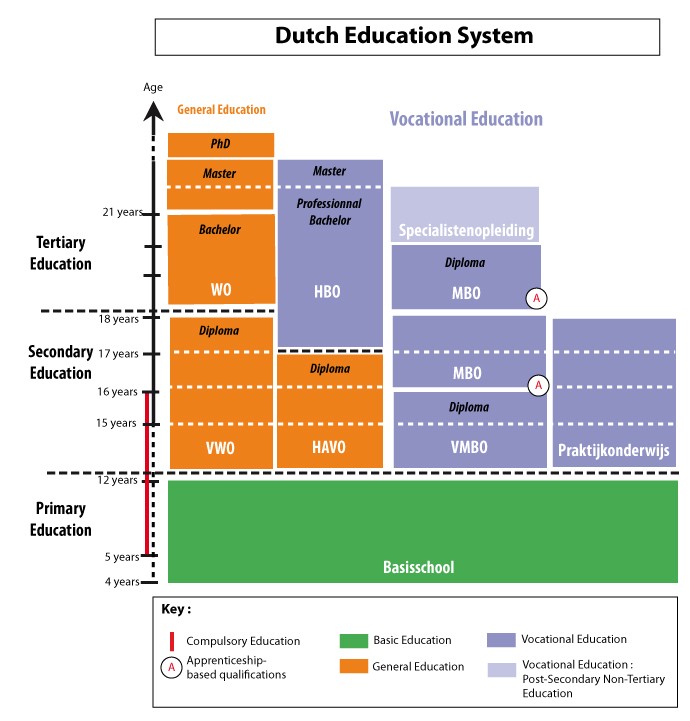 Programs at universities of applied sciences prepare students for particular professions and tend to be more practically-oriented. They lead to either a bachelor's or master's degree.
Programs at research universities focus on theoretical aspects of the field of study and prepare students for undertaking independent research. These also lead to a bachelor's or master's degree. At research universities, you can also pursue a Ph.D. degree.
Credit system and degrees
Degree programs and periods of study are quantified in terms of the European Credit Transfer and Accumulation System (ECTS). In this system, 60 credits represent one year of study and one credit represents 28 hours of study. The focus of the programs determines both the number of credits required to complete the program and the type of degree that is awarded:
Admission to higher education
For access to bachelor's programs at research universities, you need a VWO secondary school diploma. Students who have completed the first year at a university of applied sciences are also eligible for admission. For access to bachelor's programs at universities of applied sciences, the minimum requirement is a HAVO secondary school diploma.
For some programs, such as those in art education, the institution specifies additional skills as requirements for admission. Some study programs are bound by a numerus fixus, meaning there is a maximum number of first-year students they can admit.
Study Programs in Netherlands
The Netherlands, also known as Holland, is part of mainland Europe. It sits in Western Europe, with an extensive coastline to the North Sea, and shares land borders with Germany and Belgium.
The Netherlands was the first non-native English speaking country to offer courses taught in English to international students. International students can study programs in Dutch or English, making it a great option for studying abroad.
Study in the Netherlands is similar to another popular study abroad destinations in terms of duration:
Bachelor's Degree (BA, BSc, BEng): 3-4 Years
Masters Degree (MA, MSc, MEng): 1-2 Years
Ph.D.: 4 Years
The Dutch higher education system is made up primarily of three different types of institutions. These are Research Universities, Universities of Applied Science, and Institutes for International Education.
Certain degree levels are only available from each institution type.
Bachelors: Available at Research Universities and Universities of Applied Sciences
Masters: Available at all Institution types
PhDs: Available only at Research Universities
The Netherlands is an established and revered seat of higher education. In the 2016 QS World University Rankings, two Dutch universities are listed in the top 100. These are the Delft University of Technology and the University of Amsterdam.
Higher Education Institutions in Netherlands
Research universities in the Netherlands (Universiteiten)
WO degree (Research Bachelor's degree)
Universities of applied sciences in the Netherlands (Hogescholen)
HBO degree (Applied Bachelor's degree)
Institutes for International Education (IE)
Dutch business schools
Dutch university colleges
Private schools and other higher education institutions
Postgraduate education in the Netherlands
Students who have completed a Bachelor's degree (either HBO or WO) can embark on postgraduate education such as a Master's degree or doctoral degree.
Master's degree
Ph.D. or Doctorate
Why Choose Netherlands For Study?
1. Lots of English-taught programs:
The Netherlands has the largest range of English language programs in Europe. Almost every university has an English version of any program taught in Dutch. Lecturers are usually bilingual and can interact with English-speaking students easily. In addition, more than 70% of the Dutch population speak the English language and this makes international students feel at home while they study in the country. There are lots of courses to choose from and communicating with classmates and teachers isn't a problem at all.
2. Well-taught and quality programs for cheap:
The programs in the Netherlands are highly regarded at the international level. In addition, the costs for school, lodging and 'life' are considerably lower than in lots of other European countries. Compared to countries like the U.S and the U.K, the costs of studying in the Netherlands is very low. For example, on average, the tuition fee in the Netherlands amounts to about € 2.000 – for students from the EU and less than € 7.000 for non-EU students (excluding feeding and accommodation costs), while the tuition fee in America is between $26,000 and $50,000 per year.
3. Unique ways of teaching and learning:
The way Dutch people teach is different from other countries. It is interactive and the students are taught not just to think for themselves but to work together in groups. You develop skills such as analysis, practical problem solving, working in a team, and creative thinking. Studying in the Netherlands helps you learn how to develop your own opinion after having done a thorough research and also asked other people's opinions.
4. An open-minded country that welcomes international students:
Of course, we live in times when the political climate may be a bit different from what it was a few years ago, but lots of cities in the Netherlands are very open-minded, filled with international students who are definitely enjoying their time in the country and also learning a lot about the Netherlands and her people. Take Amsterdam as an example, it is both a city filled with tourists, international students, and people from all backgrounds.
5. Good world (university) rankings:
The 2018 Global University rankings show that universities in the Netherlands are among the best in the world. Universities like the Vrije University, University of Amsterdam, Erasmus University, and the Delft University of Technology are among the most highly ranked universities in Europe and the world.
6. The world leader in technical courses:
The Netherlands is number 17 on the list of the largest economies in the world. Some of the country's biggest brands are; Heineken, KLM, Shell, ING, Philips, and Unilever. In addition, the Netherlands is a world leader in fields such as agriculture, water management, dike building, dredging, banking and finance, art & design, logistics, and sustainable energy, etc.
7. Central location on the map:
A look at the map of Europe shows you how centrally located the Netherlands is. This makes it very easy to go partying or sightseeing in countries like Belgium, France, Germany, Switzerland, Romania, the UK, Spain, Portugal, Italy, etc. You can take a flight and be in some of the neighboring countries in less than 3 hours.
8. Cheap student housing:
While finding accommodation in the Netherlands (especially in busy cities like Amsterdam and Rotterdam) can be quite a hassle, student housing in the Netherlands is also very cheap. In Amsterdam for example, there are student campuses with cheap houses made out of containers for students. Some of these accommodations are rented out by corporations and the wonderful thing is that it is sometimes possible to get a rent subsidy (huurtoeslag).
9. Student Grants:
Students are allowed to apply for grants or student loans from a body called DUO (Dienst Uitvoering Onderwijs). To be eligible for student finance, however, you have to take a number of things into account. These are as follows:
You must be a native of a country in the EU, EEA and/or Switzerland.
You're registered for a full-time study.
You're under 30 years old.
You've been living in the Netherlands legally for at least 3 years.
If you meet all of the above requirements, you can apply for a student grant via the DUO.
10. Amsterdam is one of the best student cities in the world:
Amsterdam is one of the Netherlands ' most popular student cities. The open-minded and multicultural city is home to more than 100,000 students from different parts of the globe. Amsterdam is known for the many pleasant student associations and there is always one for you.
The characteristic, vibrant character of Amsterdam can be found in the many trendy, fun, and affordable restaurants and the coziest food & lifestyle spots.
Examination & Grading System in Netherlands
In the Netherlands, the traditional grading scale is from 1 to 10, where 1 is the lowest and 10 the highest grade. The pass mark for a single subject is 6, but for school-leaving examinations, where 6 or more subjects are examined, one 5 or one 4 may be condoned if compensated for by high grades in other subjects.
Grades 1 to 3 are very rarely given, and the same is true for grades 9 and 10. The most common grades in both secondary and higher education are 6 and 7. Grading in secondary and higher education differs to the extent that high grades are slightly less frequent in secondary education than in higher education. Based on data from 2006 regarding secondary school examinations, the percentages of grades were as follows:
Ten-point grading system
There are many different grading systems in the world, such as (from lowest to highest grade) 1 to 5, 1 to 10, 1 to 20, 1 to 100, 5 to 1, F to A. In Holland a ten-point system is used in both secondary and higher education. A grade of 10 is the highest and 6 is the minimum pass grade.
The grading scale with labels:
10 (Outstanding)
9 (Very good)
8 (Good)
7 (More than satisfactory)
6 (Satisfactory)
5 (Almost satisfactory)
4 (Unsatisfactory)
3 (Very unsatisfactory)
2 (Poor)
1 (Very poor)
In the Netherlands, most institutions grade exams, papers, and thesis on a scale from 1 (very poor) to 10 (outstanding). The scale is generally further subdivided with intervals of one decimal place, although the use of halves (e.g., 7.5) and quarters (e.g., 7+ or 7−, rounded to 0.8 or 0.3) is also common.
Thus, a 6.75 could be written as 7− and count as a 6.8, whereas a 7+ would be a 7.25 and count as a 7.3. Marks given in decimals are usually rounded to the nearest full mark for the final mark. At all levels of education, some subjects may be graded with the marks "insufficient" (O, or onvoldoende), "pass" (V, or voldoende) and in some cases "good" (G, or goed). On report cards, these are mostly shown as letters rather than numbers.
Application Process to Study in Netherlands
The safe and multicultural environment with affordable study costs provided by the Netherlands makes this country an incredibly attractive destination for your studies abroad.
One of the first countries to offer international study programs taught entirely in English and known for the innovative and very straight forward teaching style draws tens of thousands of international students worldwide each year.
Applying to a Dutch university is pretty straight forward as well. However, you should keep a few things in mind before applying.
1. Choose the right degree subject in the Netherlands
Masters in Visual Arts in the Netherlands
Masters in Biomedical Engineering in the Netherlands
Masters in Health Sciences in the Netherlands
Masters in Media Studies in the Netherlands
Masters in Psychology in the Netherlands
2. Choose the right Dutch university
Here are some top Dutch universities you should consider for your study abroad adventure:
Utrecht University
Erasmus University Rotterdam
Radboud University
University of Twente
Vrije Universiteit Amsterdam
Tilburg University
3. Prepare to apply
Before you choose your degree at a Dutch university, do your research rigorously and make sure it fits your interests and career goals. See Bachelor's and Master's courses in the Netherlands.
Check out if you match with the entry requirements and admission qualifications of the university. Your educational background and grade point average from your prior studies will determine if you qualify for your chosen degree.
For some Master programs, there is an online eligibility check available within universities, meant to help students find out if they are eligible for that specific program.
Be careful to check if you have to pay the Statutory tuition fee (for EU/EEA students and a few exceptions for non-EU/EEA) or the Institutional tuition fee (usually, for non-EU/EEA students).
Look for scholarship opportunities to cover your study expenses. You can also check out the Studyportals Scholarship to get some help on financing your studies abroad.
Figure out if you need a student visa. In this case, you will need to prepare the necessary documents in advance.
4. Where to apply
Where to apply for degrees with no restrictions
1. Join the Numerus Fixus degree course lottery– a university application system managed by the Dutch government. With Numerus Fixus, you increase your chances of being admitted to a degree course. However, most of the programs are taught in Dutch. The main exceptions when you can apply to an English-taught degree via Numerus Fixus are Medicine, Psychology, International Business Administration, and Physiotherapy.
2. Apply directly to the university websites after carefully checking the entry requirements for your desired study programs.
Where to apply for degrees with local restrictions
1. For some degree programs, you can apply through Studielink (similar to UCAS system in the UK). Studielink allows you to apply for up to four courses at a time. You have the possibility to change the courses you wish to apply for at any time before the enrollment deadline. If you are rejected by one university, you can then apply to another one. Furthermore, from 2019-2020 you will also be able to apply to Numerus fixus programs via Studielink.
2. The Dutch Ministry of Education can set a national quota for various degrees offered by universities.
Sometimes, the number of students who wish to enroll on a certain program exceeds this national quota. In this case, students are advised to rank the institutions in order of preference, but it doesn't necessarily mean you are not eligible for being admitted.
DUO (part of the Dutch Ministry of Education) administrates places on limited quota degree courses and may require you to submit certified copies of your academic records.
5. Language requirements for Dutch university application
If you want to apply for an English-taught degree, the accepted certifications are TOEFL, IELTS or Cambridge.
If you want to pursue your studies in Dutch, you need to pass the Dutch TUL intermediate exam or hold a Dutch NT2-II diploma.
6. Required application documents
A copy of passport or ID card
A passport picture
A personal statement in English (should contain around 500-800 words answering questions such as: Why and what would you like to study at the university? What are your plans after graduation?)
Copies of obtained secondary school diplomas, certificates and/or grade lists (uploaded diplomas and/or grade lists which are not in English, French, German or Dutch need to be accompanied by an official English translation)
Transcript of records
Proof of English/Dutch language proficiency
Proof of payment of application fee (50 EUR)
Some universities may require additional documents, such as:
CV or resume (including two referees)
Motivation letter
Sample of academic written work
7. University application deadlines for the Netherlands
Check the application deadline directly with the universities you are interested in because they may vary.
The application deadline for most courses: 1st of May. In some universities, the application deadline is 1st of February or the 1st of March.
For the Numerous Fixus and DUO platform, the deadline is typically 15th of January
The general recommendation is that you apply by mid-April at the latest so that you will have enough time to arrange your visa (if you need one) and housing before you start your studies.
8. Final steps after receiving your university acceptance letter
Studying in the Netherlands means a few extra steps after the application process:
Settle your health insurance. If you are coming from an EU country than the health insurance in your country may also work in the Netherlands. But you will need to get a European Health Insurance Card (EHIC) to make use of this. If health insurance not valid, you will have to pay 80 – 160 EUR per month to cover this.
Advantages of Studying in Netherlands
1. An international and multicultural environment
International students from all over the world come to study in the Netherlands. In 2014/15, international students came from a total of 157 different countries, mostly from Germany, China, Belgium, Italy and Spain. Most Dutch universities have international student associations, which help students throughout their studies.
2. Affordable study costs
Studying in the Netherlands is not that expensive, compared with other English-speaking countries such as the UK or US. Dutch higher education is subsidized by the government and tuition fees are relatively low.
3. Innovative teaching methods Innovative teaching methods
The Dutch educational system is of high quality and Dutch universities are acknowledged worldwide for their well-designed, modern courses and facilities. The teaching style focuses on teamwork, which makes it easy for international students in the Netherlands to meet Dutch people as well as other international students.
4. Affordable living expenses
Compared with other western European locations, the cost of living in the Netherlands is relatively low. From my own experience and from my friends', you will need between €800 and €1,000 per month. To fund this, you can combine part-time jobs and study finance. If you are a EU student, you can work 32 hours a month and be eligible for a €265 grant.
5. A wide range of degrees taught in English
More than 2,100 English-taught study programs and courses are available in the Netherlands, covering a broad range of fields, and leading to a bachelor's, master's, PhD, diploma or certificate.
6. Excellent opportunities for travel
The Netherlands is centrally located in Europe and is in easy reach of all major European cities. The Netherlands is often described as the "gateway to Europe". It takes only about an hour to fly from Amsterdam to Paris, Berlin, Brussels, or London. It also has great connections and accessibility by train to all major European cities.
7. Internationally recognized degrees
The Netherlands has also been recognized as a knowledge center with rich study traditions and well-known universities. Scientific research at Dutch universities is very highly valued at both the national and international level.
Visa Requirements for Studying in Netherlands
If the student is from a non-EU, non-EEA nation, the Holland student visa process is:
The requirement of a Provincial Residence Permit, officially known as Machtiging tot Voorlopig Verblijf (MVV). This is also known as the permit to enter the Netherlands. The MVV is applied on the student's behalf by the host university.
MVV allows entry in the country for a six-month period. Most of the courses at universities last for 1 to 4 years, a mere MVV will not suffice. Hence, VVR.
Once you enter the country, you need to apply for VVR or a Residence Permit. The VVR is also applied by the host university.
VVR is permitted for study purposes only and is valid for the duration of the program the student had enrolled in. There is another condition attached to the validity of VVR. It stays valid provided the student scores 50% of credit throughout the course duration.
As the Netherlands is a part of the European Union, international students from the EU or EEA get special privileges and have different requirements.
They require neither the MVV nor VVR for studying in the Netherlands. Such students have to simply request their host institutions to register them with the immigration authority.
For students from the USA, Canada, Vatican City State, Monaco, South Korea, Japan, Australia, and New Zealand, only a VVR is required.
Requirements for Student Visa for the Netherlands
For the successful grant of a student visa for the Netherlands, you must submit these compulsory documents:
Valid passport
Proof of sufficient financial means validating that you will be able to support yourself financially during your stay. These include either or all of the transfer of funds, bank statements, and scholarship letters.
Letter from the university you have chosen confirming your admission or enrollment
Proof of payment for all required legal fees
Health insurance
Other document requirements are:
Completed application form
Two photographs meeting the officially specified conditions
Birth certificate
Academic transcripts
Financial Requirements for Studying in Netherlands
The financial requirements depend on various factors. However, no one can judge the exact amount as to what it is going to cost you to study in Latvia. Besides, you can get a hypothetical figure for your reference.
The whole study program cost includes:
College or program fees
Entrance test fees if any
Visa charges
Accommodation charges
Travel charges to Latvia and back
Travel charges within the country
Daily living cost (food, laundry, etc.)
Miscellaneous expenses
Hence, you should consider all the above expenses before deciding to study in Latvia.
Health Insurance in Netherlands
As part of the Netherlands student visa requirements, students are required to have valid health insurance to bear their medical expenses in the Netherlands, if required. For non-EU, non-EEA, and students from Switzerland, their EU Health Insurance Card should be sufficient.
For those working in the Netherlands, it is compulsory to take the Dutch basic healthcare insurance. Keep this in mind if you intend to work part-time during your course.
Students should find out from their host institution for details on health insurance requirements and reference for an insurance company. Many private companies also offer special insurance packages for students.
There are some other insurance options that are not required but are strongly advised. Personal liability insurance is for insuring you against costs incurred by you in case of damage to someone or their property. Repatriation insurance should also be considered.
It covers you against the transferring cost incurred if a serious medical condition requires returning you to your home country. Household contents insurance covers you against any unfortunate damage to your house due to fire, water damage, and theft, among other things.
Cost of Living (COL) in Netherlands
On average, an international student needs approximately €800 and €1,100 per month in the Netherlands. Prices differ a lot in big cities and small towns all across the Netherlands.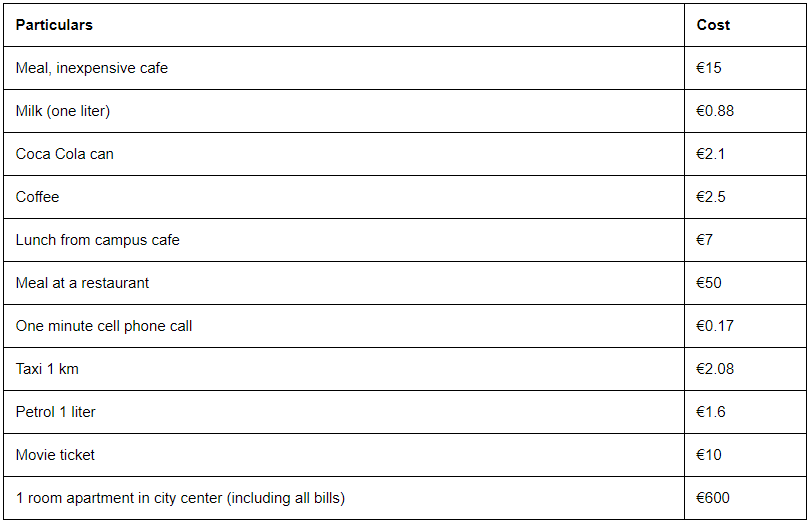 Food costs
An average student living alone pays around €170/month for food. How much you spend depends on your lifestyle and does differ according to person to person. The costs also differ according to the city as some cities are more expensive to live in than others. So if you are living in cities like Amsterdam or Rotterdam, shopping and groceries will be much more expensive than smaller cities like Eindhoven or Groningen.
Transportation costs
Average monthly public transportation costs in the Netherlands average €35/month. You can save a lot on transportation by simply renting a bike, which is the most popular transportation choice in the country. If you want you can buy an older bike as a second-hand purchase because this will prove a better investment in the long run.
Accommodation in Netherlands
If you have a part-time job that supplements your student income or you have a scholarship, you will realize that one-third of it will go towards accommodation rent. Here are some examples of accommodation costs based on the type of housing.
Living in a rented apartment – €419/month
Living with partner/child – €572/month
Living in student accommodation – €340/month
30% of total students and most international students live in student accommodation. It is important to remember that there are additional costs that are included in your rent.
For example, you have to pay an initial deposit which you get back at the end of the tenancy term. Then there is gas, electricity, water, garbage, internet bills which might or might not be included in your rent.
Plus the amount you would have to pay for these services depend on the company providing them. Average utility and service costs for a three-room apartment average €165/month.
So the total amount paid for accommodation will be higher than only the rent mentioned above.
Culture & Language of Netherlands
Language & Culture in Netherland
The Netherlands has a population of around 17,151,228 individuals. The Dutch constitute 76.0% of the population. Dutch is the country's official and most widely spoken language. Frisian is the official language in the country's Fryslan province. 23.4% of the population practices Roman Catholicism.
Protestant Christians account for 14.9% of the population. Islam is the religion of 5.1% of the population. A large section of the Dutch people (50.7%) does not adhere to any religion.
The Sinterklaas (a figure based on Saint Nicholas, a patron saint of children) is a prime traditional festivity of the Netherlands. It is celebrated every year on December 5.
The festivities include feasting and the exchange of gifts. Another Dutch tradition is that of serving beschuit met muisjes (a type of Dutch biscuit) to people who visit a mother and her new-born baby.
The Dutch also celebrate Saint Martin's day on November 11. On this day, children go from door to door with candles and paper lanterns and sing songs in exchange for treats.
The cuisine of the Netherlands is influenced by its location in the fertile North Sea river delta. Thus, fishing, farming, and overseas trading have shaped Dutch cuisine. The traditional cuisine of the country can be described as simple or "rustic" with little dependence on meat and the use of a variety of vegetables.
Bread with cheese was typically consumed for breakfast and lunch. Meat, seasonal vegetables, and potatoes featured in the dinner. Today, Dutch cuisine has gathered many refinements and is more cosmopolitan in nature. International cuisines are available in all the major cities of the Netherlands. Dutch cheeses and Dutch pastry are renowned.
The ocean affects the weather conditions in the Netherlands. With a temperate maritime climate summers are generally pleasant with very changeable periods, but excessively hot weather is rare. Winters can be quite cold and dark with the possibility of some snow. Rainfall is common throughout the year.
Almost each day clouds appear in the sky and in winter you will also experience foggy weather. The average temperature of the Netherlands is about 2 degrees Celsius (35 degrees Fahrenheit) in the month of January. In July the average monthly temperature is 19°C (66F). The annual average temperature is approximately 10 degrees Celsius (50F). The average annual rainfall in a year is 700 millimeters (28in).
People in the Netherlands complain much about the weather. The unpredictability of the weather can be annoying. So even if the weather seems nice and sunny in the morning, by the afternoon it might be raining again. So you always need to take an umbrella or jacket just in case.
The Netherlands has four seasons: winter (January – March), spring (April – June), summer (July – September) and autumn (October – December). The weather in Utrecht in summer can be pleasant, sunny, and warm, i.e. 20-28 degrees Celsius.
However, nothing is less predictable than the weather, so it is very likely that we will have colder, cloudy, and rainy days during the summer as well or very hot days. Therefore you are well-advised to not only bring summer clothes, but also something a little warmer and for example a raincoat.