Latvia lies on the eastern shore of the Baltic Sea. It has rich cultural heritage which is also known as green country. Lativia is god's own country. The reason is half of Latvia's territory is covered by forests. This makes Lativia the 4th most forested country in Europe.
The country is safe and welcoming. It offers the space and oppurtunities to everyone who's looking for studies. You just name it and Latvia has it all. With this in mind let's have a bried detail on the history of this beautiful country.
On August 21, 1991 Latvia declared the restoration of its de facto independence. Since 2004 Latvia has been an official EU Member. The country joined the euro zone as of 1 January 2014.
Latvians enjoy a vibrant cultural life. Music and dance performances are the lifeline of the people residing here. They play a significant role in everyday life of local residents. Apart from music and dance Latvians are big fans of theatre. You will find public museums across the country displaying different forms of art.
Sports and cultural activities are carried out at college and university levels. Additionally, the government has taken care of opening sports complex and facilities across the country. Hockey, football and basketball are the most popular spectator sports. When Latvian teams reach international play-offs people may even skip work to watch.
Education System in Latvia
The education system in Latvia consists of pre-school education, basic education, secondary education and higher education. However, the general education in Latvia in total lasts for 12 years. The program includes compulsory 9-years basic education and 3-years secondary education. Additionally pre-school education at age of 5-6 is compulsory in Latvia.
Basic education stage comprises general basic education (grades 1-9) and vocational basic education. Secondary education stage comprises general secondary education, vocational secondary education and vocational education. Higher education comprises both academic and professional study programmes.
The education system in Latvia is similar to its culture. In short, it is student friendly and open to the outside influences. Besides, the Latvian education system is an active participant in international collaborations. For instance, the establishment of the European Higher Education Area. This establishments promotes the exchange of staff and students within and outside of Europe.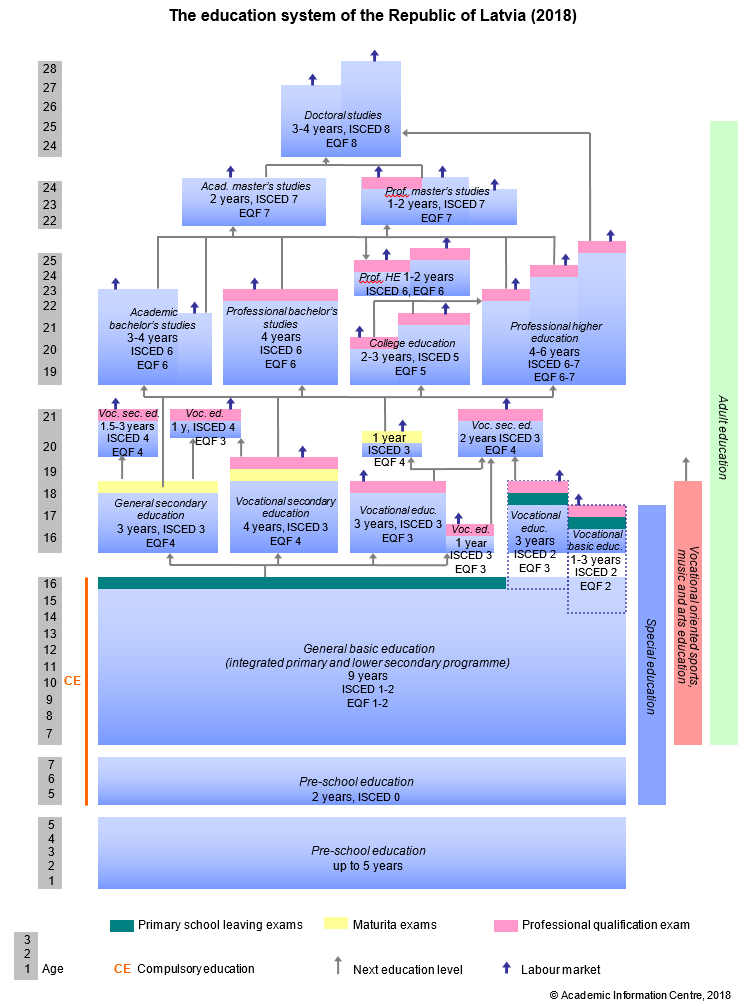 The education system in Latvia is actively involved in multi-national cooperation. The field of education and research are examples to consider. With this the country aim to develop student's competitiveness in both local and international job markets.
The higher education system in Latvia adheres to the Bologna process. This process integrates 3 study cycles namely – Bachelor's, Master's and PhD degrees. The Bachelor's program is of 3-4 years, the Master's program is of 1-2 years, and the Doctorate programs is of 3-4 years.
Study programs in Latvia set a contrast between academic and professional higher education. The majority of the Latvian academic institutions offer a variety of degree programs.
#Academic
The academic programs focus on enhancing student's research skills. On the other hand, it provides a theoretical background for their career. These programs are built upon fundamental and/or applied science. They generally require a thesis at the end of each stage. And then they lead to a Bachelor's or Master's degree.
#Professional
Professional programs tend to be vocational. However, they focus on providing in-depth knowledge to prepare students in specific areas. For example, research and technologies. Not only this but the program also helps students develop creative, research and teaching skills.
Study programs in Latvia offer a diverse portfolio of courses. The most popular ones are in the fields of Health Care, Engineering, Mathematics, Computer Science, and Business and Administration.
The Academic Year of Latvian Education System
The Latvian academic calendar year consists of 40 weeks. And it remains common for almost every higher educational institution in Latvia. Further, this calendar is divided into 2 semesters. The first semester starts in September.
AUTUMN SEMESTER:
Lectures: September – December
Exams: December or January
Holiday break: Christmas time
SPRING SEMESTER
Lectures: February until the end of May
Exams: May or June
Holiday break: July until August
Higher Education Institutions in Latvia
Universities and Academies in Lativia
Institutions granting doctoral degrees
State institutions granting degrees below doctoral level
Private institutions with accredited programmes
Why Choose Latvia For Study?
Latvia is known as the land that sings and Latvians claim that their country is a symphony of sounds, sights, and experiences. The Latvian government has laid special emphasis on education and has made several educational reforms. This way Latvia had become an ideal study destination for students.
Latvia has both fee-paying as well as state-financed higher education opportunities. For scholarship schemes, a careful process of student selection is carried out so as to offer government aid to the most deserving students.
There are two types of higher education programs offered in Latvia: Professional and Academic. Latvian universities offer both these programs, but there are several non-university type institutes in Latvia that offer only professional education to students.
The Bologna System is followed in higher education, which is divided into three distinct levels – the Bachelor's studies, the Master's studies, and the Doctoral studies. The bachelor's degree program is of 3 or 4 years of regular study. A master's degree, on the other hand, can be achieved only after receiving the Bachelor's and completing further one or two years of study.
In Doctoral studies, the students should have a master's degree or an equivalent diploma. Doctoral studies can take anywhere from three to four years and involve advanced studies and the preparation of a Doctoral thesis.
The major reason why you should study in Latvia is affordable education. The tuition fees and other living costs are lower as compared to several western nations. Engineering study in Latvia is very popular and the universities here are famous for producing high-quality engineering and IT graduates. Latvia also has EU membership, so a degree from here is equivalent to that from any other EU country.
So you can still get an education in a European country with considerably cheaper living costs and other expenses.
Examination & Grading System in Latvia
In Latvia's higher education a ten-point grading system prevails, where 10 is the maximum and 4 is the pass mark (In some cases where studies lead to a qualification in a regulated profession, e.g. in medical specialties, the universities may consider mark 4 as a failure). Explanation of the grading system and approximate comparison to ECTS grades are given below.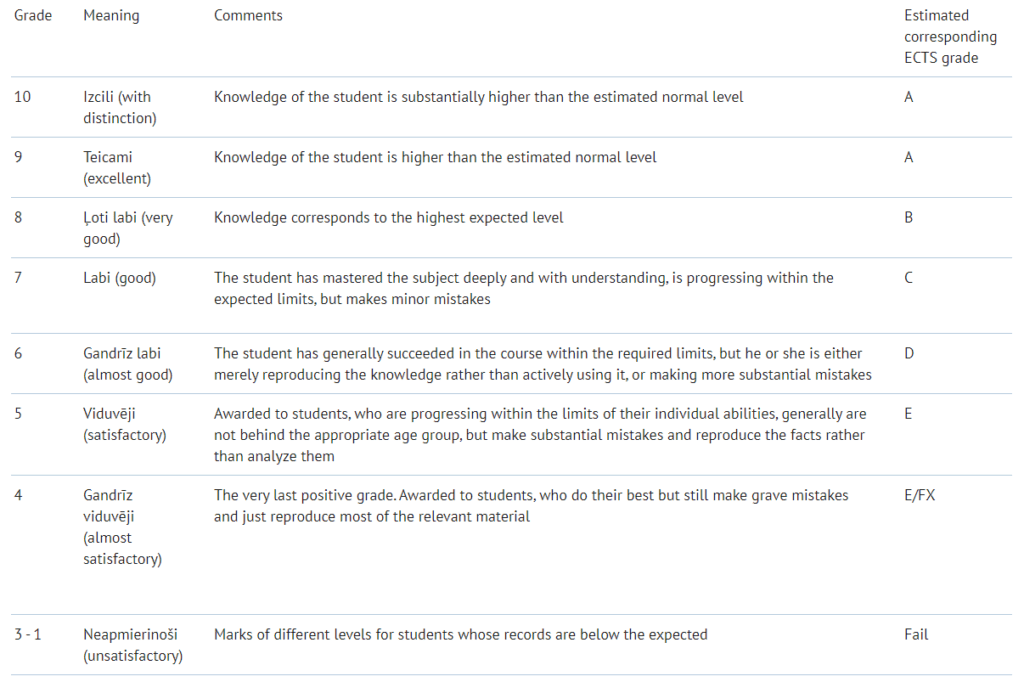 Application Process to Study in Latvia
In order to apply for studies in Latvia, follow 7 simple steps that will help you manage your application. Please be aware that Study in Latvia does not administer the application and following the admission process, it is managed by universities.
STEP 1. FIND YOUR STUDY PROGRAMME
Find a study program and choose a university or vice versa.
Check if you qualify. Read general entrance requirements and check specific entrance requirements set by the chosen university.
Choose intake. Spring intake usually starts in November and runs until December with studies starting in February. Fall intake usually starts in March and is open until July with studies starting in September. Be aware that intake deadlines may be set earlier depending on your citizenship.
Ask if you have any questions. Contact the international office of the chosen university or Study in Latvia if you have additional questions.
STEP 2. SUBMIT YOUR APPLICATION
Collect all documents. Prepare a full package of necessary documents (usually copy of passport or ID, copies of education documents, English proficiency certificate, etc. but the package may vary in different universities).
Provide translations and digital copies. If documents are not in English, provide certified translations. Additional rules may apply depending on the country where educational documents are issued. Make sure that all the documents are scanned or photographed fully in good quality.
Process your application. Fill in the application form and send application documents to the university's international admissions office or upload online according to the admission procedure in the chosen university.
Prepare for payment. The application fee may be charged by the university, and it is not refundable. There are also universities that do not require any registration fee.
STEP 3. WAIT FOR RECOGNITION OF YOUR DOCUMENTS
Documents are sent for verification. The university initiates the process of recognition of your education documents which are sent to an independent institution for academic verification. During academic recognition, your qualification is compared to the education system of Latvia, and it is clarified whether you are capable of continuing studies in the chosen program and study level.
Wait for recognition of diploma. The time necessary for a recognition conclusion is approximately 1 month, but sometimes it may take longer because the process depends on the country where educational documents are issued.
STEP 4. PREPARE FOR ENTRANCE EXAMS AND INTERVIEW
Prepare for exams. The university sets exams or other entry regulations accordingly to the chosen study program. For some universities, there are no entrance exams and your secondary school marks in compulsory subjects will determine your option to get a study place or not.
Get ready for an online interview. Prepare yourself for a real-time online interview organized by the university in which you present your motivation and language skills. Be aware that some universities may organize face-to-face interviews or schedule interviews only with prospective students in Master's study programs.
Receive an official letter of study place offer. If the recognition conclusion of your educational documents allows you to start studies in Latvia, the university takes a decision about the offer of study place taking into account other entry regulations or results of exams. The decision is issued in the form of an official letter offering you the study place or rejecting it.
STEP 5. RECEIVE YOUR STUDY AGREEMENT AND PAY TUITION FEE
Receive a study agreement. The university sends a study agreement and you sign the agreement before the arrival of the document is necessary for the immigration procedures or during the first week in Latvia. It may vary in each university.
Pay 1st semester or year tuition fee. Some universities may ask for a security deposit and other applicable payments.
STEP 6. MANAGE YOUR VISA OR RESIDENCE PERMIT
Get an invitation number for a visa or residence permit. The university informs you about the visa and residence permit application process, prepares an invitation, and sends you the invitation number to apply for a visa or a residence permit.
Get ready all documents for the application. Collect all the necessary documents for a visa or residence permit. Regulations may vary depending on your country of residence. It may also differ for Masters and Ph.D. students.
Apply for a visa or residence permit. Documents should be submitted only at the Embassy of Latvia in your country of residence. If the Embassy of Latvia is not situated in your country, contact the university for further information on the embassy that would be handling your application.
Prepare for an interview at the embassy. Attend an interview at the embassy and wait for the decision and document in order to enter Latvia.
STEP 7. COME TO LATVIA
Plan your travel. Manage your arrival date with the chosen university, pack your bags, and buy a travel ticket. You are welcome in Latvia!
Advantages of Studying in Latvia
Latvia is a bridge between the East and the West, sitting at the crossroads, on the shores of the Baltic Sea. Living in beautiful Latvia you will find an amalgamation of cultures and traditions of the east, west, north, and south. Latvia is a member of the EU.
Studying in Latvia will open the gates of Europe for you. An EU student visa permits you to travel (at very low cost) in all EU countries as well as search jobs. It's a dream of thousands to get a European education degree. Its scenic capital Riga is architecturally beautiful & a World Heritage Site.
IELTS is not mandatory and the total cost of the study is comparable to study in Indian institutions. Riga Technical University, Stradins University, and the University of Latvia are highly ranked world-class universities.
Visa Requirements for Studying in Latvia
To study in Latvia you need a Student visa. Read the step by step Latvia Student Visa Requirements and process with the list of required documents and be careful because a single mistake can be the reason of your visa rejection.
List of Original Documents Required from Students
ESL application form
Passport
Photo with white background (35/ 45 size)
All educational documents- X, XII/PUC and bachelor's certificates and marksheet (Translated into English). Provisional certificate not accepted. Grade should be 50% and above.
IELTS, TOFEL, the medium of instruction certificate or any English proficiency certificate
CV
Financial Requirements for Studying in Latvia
The financial requirements depend on various factors. However, no one can judge the exact amount as to what it is going to cost you to study in Latvia. Besides, you can get a hypothetical figure for your reference.
The whole study program cost includes:
College or program fees
Entrance test fees if any
Visa charges
Accommodation charges
Travel charges to Latvia and back
Travel charges within the country
Daily living cost (food, laundry, etc.)
Miscellaneous expenses
Hence, you should consider all the above expenses before deciding to study in Latvia.
Health Insurance in Latvia
Health insurance requirements are linked to visa and residence issues. This means that there are different requirements, depending on the country of citizenship. For detailed information, please see the Cabinet of Ministers Regulations for the Health Insurance of Foreigners.
The following information provides a brief introduction. For practical advice on insurance, please ask the international relations division of the university at which you intend to enroll.
EU/EEA/Switzerland
For registration purposes, citizens of the European Union Member States, Norway, Liechtenstein, Iceland, or Switzerland may use the European Health Insurance Card (EHIC). This document certifies that the holder is a resident of one of the aforementioned countries and is covered by the social insurance system of this country.
During the period that the holder of the EHIC card resides in another of the participating countries, the card ensures the right to receive acute or emergency health care to the same extent that it is available under the national social insurance system to the permanent residents of the country in question.
Information on the services available through the Latvian public healthcare system is described on the Ministry of Health website.
It is recommended to supplement the EHIC card with a health insurance policy covering patient contributions for public healthcare, treatment of non-acute situations, private healthcare, and repatriation expenses to the country of origin.
Insurance companies in Latvia that provide "Foreign travel insurance policies" include the following.
Non-visa and visa countries
Each student must be aware that it is mandatory to be covered by health insurance for the entire planned period of stay in the Republic of Latvia. The health insurance policy should guarantee coverage of expenses associated with health care providers in the Republic of Latvia, including expenses associated with
emergency medical assistance
inpatient treatment of critical condition dangerous to life or health;
transportation to the nearest medical treatment institution for the emergency of inpatient treatment;
transportation for conveyance back to the country of residence in case of serious illness or death.
The minimum coverage limit indicated in the policy cannot be less than 42,600 EUR over the insurance period for a long-stay visa.
Cost of Living (COL) in Latvia
The cost of living in Latvia is quite reasonable and it is suitable for the students. The dormitories or student hostel costs between 70 to 120 Euros.
The meals cost 5 to 9 Euros per meal.
The transportation costs are affordable too as the taxi would cost 7 to 15 Euros.
The average living costs in Latvia are lower in comparison to other cities.
The public transport monthly will cost around $53.
A movie ticket would cost around $7.
A meal would cost you $6.70.
Milk in Latvia is at the cost of .80 Euros per liter.
The potatoes in Latvia are around .5 Euros per kilogram.
Accommodation Cost
Hostels/Dormitories 70 to 120 Euro per month
Shared flat rental 100 to 200 Euro
Flat rental individual 250 to 350 Euro
The cost of living in Latvia is reasonable and the students find it suitable to live in Latvia at this expenditure. The cost of living in Latvia for international students is affordable and suits the students from foreign countries.
Accommodation for International Students in Latvia
Student accommodation in Latvia is normally provided by the universities through student dormitories or hostels. Universities also have international student advisors who provide housing assistance or advice.
It is recommended that prospective students should work with their chosen institution regarding accommodation as the real estate market in Latvia can be a little bit tricky to navigate.
What is the total accommodation costs in Latvia?
While accommodation costs in Latvia will depend on the city, type of accommodation, and one's lifestyle, everyday expenses in this Baltic state are still generally cheaper compared to many European countries.
It is estimated that around €450 – 700 (USD $ 553 – USD $ 861) is enough to cover necessities such as food, transportation, utilities, and accommodation for a month.
Culture & Language of Latvia
Language & Culture in Latvia
Its role as a crossroad between its European neighbors as well as decades of foreign rule has transformed Latvia into a country that embraces the achievements of other cultures while maintaining a firm grip into the traditions that makes it unique. The culture in Latvia is an attractive prospect for students who wish to experience various types of European influences.
The Culture
The culture in Latvia is deeply rooted in Latvian folklore, which describes the strength of the love and the attachment that Latvians have with their homeland.
Latvia is dubbed as "the singing nation". Folksongs are considered as national treasures and are expressed through events such as the world-renowned choral singing traditions and the Latvian Song and Dance Celebration. The latter, which brings together more than 40,000 performers nationwide, takes place every five years.
The Language
Latvian is recognized as the country's national language. It belongs to the Indo-European family of languages, and shares a distinct trait with Lithuanian dialect, in the sense that it is also non-Slavic and non-Germanic. Due to its past association with the Soviet era, Russian is the most-widely used minority language.
In Latvia, a flat country overlooking the Baltic Sea, the climate is very cold in winter and mild and quite rainy in summer. The coastal areas are a bit more temperate, but also more humid and windy, while the eastern area has a slightly more continental climate.
Winter is cold and gray, with frequent snowfalls, though usually not abundant. Spring arrives quite late: in early April, the country may still be under the snow. By mid-April, temperatures become usually milder.
In May, the weather can still be cold, especially at the beginning of the month, but the temperature rises over the course of the month, and it can even exceed 20 °C (68 °F) in the warmest days.
Summer, from June to August, is mild in coastal areas, with highs around 18/21 °C (64/70 °F), while it is slightly warmer in the interior, where maximum temperatures reach 20/22 °C (68/72 °F).
Summer is also the rainiest season, especially in inland areas, where thunderstorms can occur in the afternoon. Sometimes, warm air masses from the south-east can raise the temperature, which can approach 30 °C (86 °F) for a few days.
In autumn, rainfall is frequent and the sky is often gray. The temperature gradually decreases: in October, it's already cold, and in November, the first snowfalls occur.