Germany is the country that has seen one of the highest numbers of international students going there in recent years. Also, after the United States of America, Germany is the most popular choice for immigrants.
As we already know, education offered is of a very high standard in Germany and is cheap. International students can get a tuition-free education.
Also, since universities in the country function under the government, no compromise is made in any aspect of maintaining the high standard of the academic environment and output, whether at the undergraduate level, or at the Masters, or at the research level.
Besides, Germany has become a top choice for international students, students get to experience the best of many vibrant cultures, and they become educated, open, and broad-minded individuals. The summers in Germany are especially beautiful and add to the charm of living in Germany.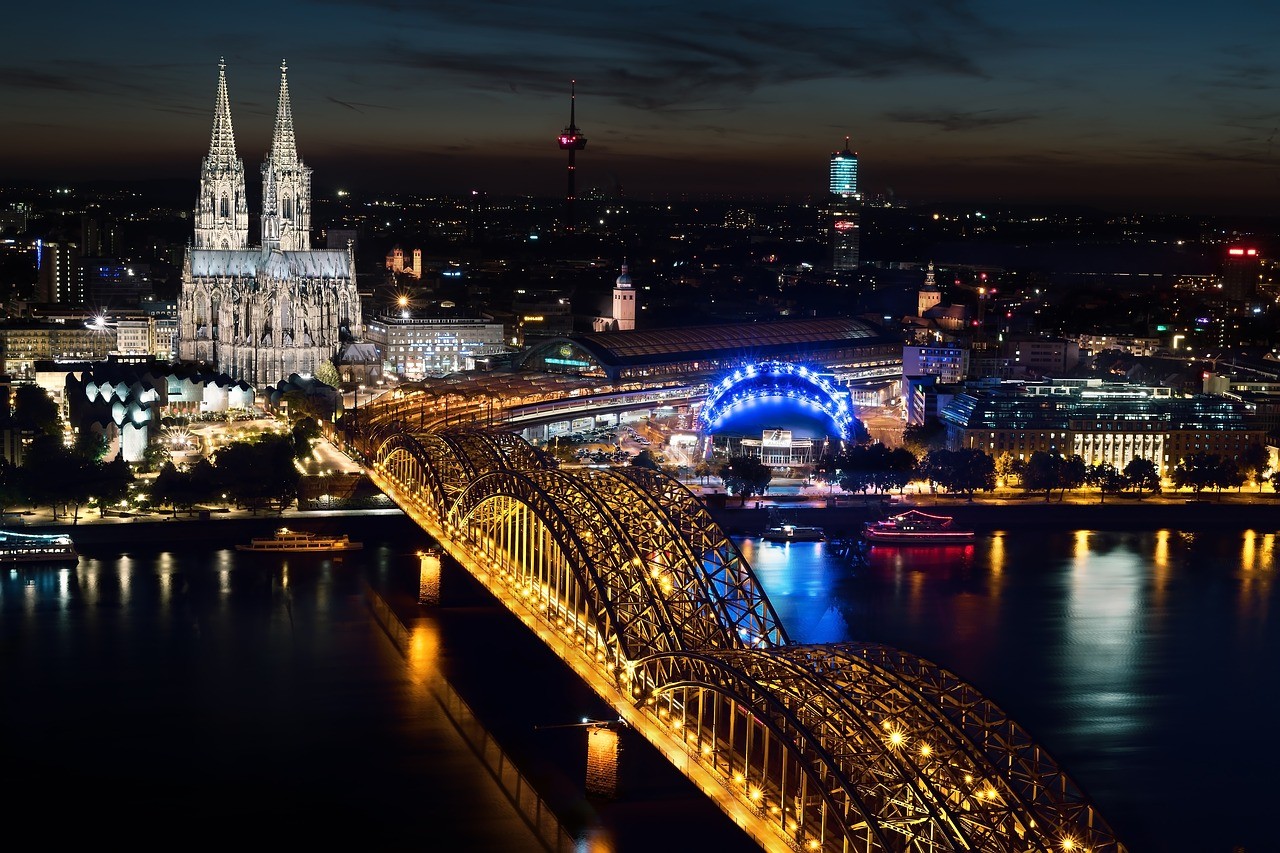 There was a time when international students kept Germany off their lists because of the language barrier. Germany was quite rigid about ensuring that students who went to the country to study had a certain level of proficiency in German.
Necessary certifications were needed to prove that. However, lately, they have relaxed their language-related norms a lot, and many colleges and universities in Germany now offer graduate and post-graduate programs in English.
This has opened up the country to international students, and they have been taking full advantage of a very high standard of the education system.
Education System in Germany
Germany's institutions of higher education are internationally accredited – according to the Academic Ranking of World Universities (ARWU), 6 of the top 100 and 18 of the top 200 universities in the world are German. Studying here will place you among some of the oldest and most established universities in the world, as well as some of the newest and most innovative.
Public and Private Universities
There are 400 public universities in Germany, which are attended by 95% of the university student population. These institutions are state-funded, meaning that students do not pay tuition fees (apart from a small administrative cost at the start of each semester).
There are also around 120 private institutions that do not receive government funding and are not state-regulated, meaning that they set their own tuition fees.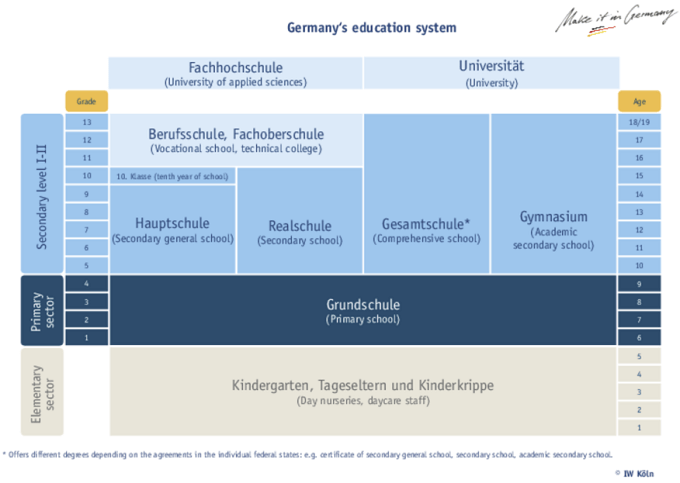 The Bologna System
Higher education in Germany recently converted to the three-tier degree system of the European Higher Education Area established under the Bologna System. Rather than the old one-tier 'long' programs, Germany now offers undergraduate courses that result in a Bachelor's degree and postgraduate courses which result in a Master's or Ph.D. (Doctorate). This system is designed to be the same throughout Europe, facilitating international educational mobility and enhancing flexibility in educational objectives.
Undergraduate Education
The German higher education system differentiates between different types of universities for different disciplines:
Technische Universität (Technical Schools) teach science, technology, and engineering
Fachhochschulen (Universities of Applied Science) specialize in business, engineering, and social science
Kunst- und Musikhochschulen are universities of fine and performing arts, music, media and communication
Postgraduate Education
Master's degrees are taught courses (unlike PhDs which are research-oriented), and usually last two years (four semesters). They are either 'consecutive' or 'non-consecutive'. Consecutive Master's programs build upon an obtained Bachelor's – they follow on from a related undergraduate degree and do not ordinarily charge fees.
Non-consecutive programs focus on a more specialized area of study. These courses may charge fees and are more likely to require professional or practical experience on top of an undergraduate degree.
Study Programs in Germany
The first higher education qualification in Germany is a Bachelor's degree. The standard period of study "Regelstudienzeit" in a Bachelor program is 6 semesters or 3 full academic years. In Universities of Applied Sciences bachelor studies last 6-7 semesters, by also including the practical work.
In German Colleges of Art and Music, such studies last about 8 semesters or 4 academic years. In Professional Academies they last 3 academic years. In Fachschulen bachelor degree studies last 2 academic years.
Depending on the type of higher education institution of higher education issuing it, there are different Bachelor titles, as follows:
Bachelor of Arts (B.A.)
Bachelor of Science (B.Sc.)
Bachelor of Engineering (B. Eng.)
Bachelor of Laws (LL.B.).
Bachelor of Fine Arts (B.F.A.)
Bachelor of Music (B. Mus.)
Bachelor of Education (B.Ed.)
International Bachelor study programs that German universities and equal institutions offer are:
Languages and Humanities
Law, Economics and Social Sciences
Engineering Sciences
German Fachhochschulens provide the following Bachelor study courses:
Agronomy, Forestry, and Nutritional Science
Engineering Sciences
Economics/Economic Law
Social Work
Public Administration, Administration of Justice
Information Technology, Computer Science and Mathematics
Natural Sciences
Design
Information and Communication Studies
Nursing and Management in the Public Health System
German Master degree at universities or equal institutions are:
Master of Arts (M.A.)
Master of Science (M.Sc.)
Master of Engineering (M. Eng.)
Master of Laws (LL.M.)
Master of Education (M.Ed.)
Master of Fine Arts (M.F.A.)
Master of Arts (M.A.)
Master of Music (M.Mus.)
Master of Arts (M.A.)
Master of Science (M.Sc.)
Master of Engineering (M. Eng.)
Master of Laws (LL.M.)
German Ph.D. degree at universities or equal institutions are:
Individual and supervised doctorate
Structural doctorate
Cooperative doctorate (combination between universities and universities of applied sciences)
International doctorate
Special doctorate
Higher Education Institutions in Germany
Germany has state and state-accredited institutions of higher education which are mainly divided into universities, universities of applied sciences, and colleges of art and music. The majority of higher education institutions are financed by the state and therefore fall under its regulatory control. However, there are also higher education institutions run by the Protestant and Catholic Churches, and by private institutions that are officially recognized by the state. Most private higher education institutions are universities of applied sciences.
Universities in Germany
Universities and institutions of equivalent status to universities are the only higher education institutions in Germany with the right to confer doctorates. Universities are normally strongly research-oriented and typically offer a wide range of subjects. Some universities specialize in particular fields (e.g. technology, art, or medicine). Universities in Germany also include a number of religious and philosophical-theological institutions, as well as universities of education in Baden-Württemberg that provide teacher training programs.
Universities of applied sciences / HAW in Germany
The distinguishing feature of universities of applied sciences is their strong emphasis on practical work and application. Universities of applied sciences usually offer a narrower range of subjects than universities and are focused primarily on the fields of engineering, business, and social sciences.
In Germany, there are also around 30 universities of applied sciences for national and regional public authorities. These institutions provide training for careers in senior levels of civil service and can only be attended by officials working in the public services.
Colleges of art and Colleges of music in Germany
Colleges of art and music are higher education institutions of equivalent status to universities. They provide an education in the visual arts, creative arts, performing arts, and musical subjects. In some cases, programs in these subjects are also offered by the corresponding departments or faculties of universities.
Why Choose Germany For Study?
World-class education
German higher education is one of the best in the world! Whether it's cars or education, people everywhere recognize "Made in Germany" as a seal of quality. You can benefit from Germany's long and famous university tradition especially in the fields of engineering and science. A German university degree is highly respected by employers around the world.
No Tuition Fees
The most important reason for studying in Germany is that most courses have no Tuition fee [4]. But, you will need to pay a semester contribution up to 250 Euros, depending upon the university and the services or benefits included.
English-taught course
Good news for those who don't know any German or if your German isn't good enough yet. Many courses and degree programs are being offered in English, especially at the master's degree level. As per the DAAD website, there are 1471 courses that are completely taught in English.
Job opportunity
Germany provides excellent job and Ph.D. opportunities. After completing your degree in Germany, you can stay on in the country for up to 18 months to look for a job related to your qualification. As per a study, Germany is likely to face a shortage of 3 million skilled workers by 2030; this means more job opportunities after studying in Germany.
German Language
Whatever plan you may have for the future, learning the German language will always be beneficial and opens door to many job opportunities. German is the world's 4th most popular language. Living in Germany would provide you an easy way to learn the language.
Safety
A question you may have in your mind is: "How safe is Germany for me?" Despite its history of racism, modern Germany is a multicultural society, with some rare incidents of racism. Also, Worrying about safety and crime in Germany is a natural concern for those who are unfamiliar with the country. Germany is generally a safe country, and while crime in Germany exists, it is rather low-scale. Crime in Germany is not a topic one needs to be concerned about.
Examination & Grading System in Germany
Universities in Germany apply a 1 to 6 (or 5) point grading system to assess their students' academic performance. 1 and 6 signify both extreme ends of your achievement. If you get 1 on your exam it means you successfully completed between 90 and 100% of your task. On the other hand, if you got 6 it means your performance has not satisfied the least minimum required to pass.
Given below are marks in the German grading system and their translation in terms of your academic achievement
1.0 – Excellent. You have successfully completed between 90 and 100% of the material required in the exam.
2.0 – Overall very good. However, you need to work more in specific study areas.
3.0 – Good. Your achievement is satisfying, but there is room for improvement.
4.0 – Adequate.
5.0 – Sufficient to pass the exam, but very poor otherwise.
6.0 – Insufficient. You have shown insufficient knowledge to pass the exam you sat in.
Note that there are some universities that use a 5 point grading scale to mark their students' academic achievement. If that is the case with your chosen university in Germany, here's what every grade means:
1 to 1.5 – Very good. You have successfully completed a major part of your exam, but there are some minor areas you must improve.
1.6 to 2.5 – Good. You have shown decent academic performance by correctly completing a considerable proportion of your exam.
2.6 to 3.5 – Satisfactory. Your performance was a bit more than sufficient and you need to work in several areas.
3.6 to 4.0 – Sufficient. You have reached the minimum score to pass the exam, but your performance leaves much to desire.4.1 to 5 – Fail. Your performance lies behind the minimum score.
Application Process to Study in Germany
1. Choose a university
So, you've decided on Germany as your study abroad destination – now it's time to choose the right course and university for you.
2. Check the admission requirements
Before applying, check that your current qualifications are recognized by your chosen university. To study in Germany you need to have a recognized Hochschulzugangsberechtigung (HZB), meaning 'higher education entrance qualification'.
3. Get your finances in order
In order to fulfill student visa requirements, you will need to show proof that you have, or have access to, around €8,700 per year.
4. University Application
For most subjects, you can apply directly to the international office of the university. Alternatively, you can use the website www.uni-assist.de, a centralized admissions portal for international students, run by the German Academic Exchange Service (DAAD).
5. Take out health insurance
Before you leave your home country you should ensure you've purchased health insurance to cover you during your stay in Germany.
6. Get a German student visa
The requirements for obtaining a student visa for Germany depend on your country of origin. You can find an overview of the countries for which a student visa is or isn't required on the Foreign Federal Office's website.
7. Find accommodation
Once you've gained a place on a course and your student visa (if applicable), it's advisable to start looking for accommodation, as unfortunately, most German universities do not offer accommodation to enrolling students.
8. Enroll
You must enroll before you can start your course and use university facilities such as the library. You'll also need to re-register before the start of every semester. This usually costs between €150 and €250 (~US$170-290), depending on the university. There may be an additional charge of around €180 (~US$205) for a "Semesterticket", which covers public transport expenses for six months.
9. Settle into student life in Germany
Congratulations, you should now be (mostly) all set to begin your studies in Germany! Don't forget to pack all the essentials, as well as arranging a few more important affairs.
Advantages of Studying in Germany
Lack of tuition fees is just one of many advantages of studying in Germany. Let's go through all the benefits Germany has to offer to international students:
1. No tuition fees at public universities in Germany
Higher education in Germany is mainly funded by the state and as such, it is literally free of charge for domestic and international students alike. The German higher education system consists of around 400 institutions, divided into public "tuition-free" institutions that host over 2.4 million students across Germany, and a smaller number of private institutions that enroll less than 5% of the total student body.
2. Excellent higher education staff members and infrastructure
Most public universities in Germany date from the Middle Ages, barring a significant tradition of qualitative education and prominent names in various academic disciplines. Other institutions were either founded after the Second World War or fairly recently, including most of the private universities in Germany.
3. Internationally recognized degrees
Universities in Germany now all operate under the Bologna reform, which ensures all students get a unified and internationally recognized degree such as bachelor's, masters, or Ph.D.
4. Study programs taught in English
Studying in Germany not only comes for free, but you can also do it in English if your German language skills are not so good. English is an international and widely spoken language, taught as a second language in the majority of schools around the world.
5. Great job opportunities
Regardless of the free tuition fee policy, studying in Germany doesn't come entirely for free – you still need to meet the living costs. Therefore many international students tend to look for a job to support themselves while studying. It is very easy for EU students to find a job, as there are no limitations whatsoever.
6. A chance to explore all aspects of life in Germany
Student life in Germany thrives on adrenaline and curiosity. German people are friendly but give you privacy; mutual respect and order are part of the daily routine; and cultural diversity is worth exploring in every inch of the country, as it makes you feel part of one entity rather than a total stranger.
7. Staying in Germany after your studies
Finally, after studying in Germany, you'll have the chance to stay on and seek work after you graduate. The law allows international graduates to stay for an additional 18 months to seek work, and you may even end up staying longer if that is what you wish.
Visa Requirements for Studying in Germany
You may get a German student visa if you are a foreigner and has received a letter of complete admission for studying at a German university, equally recognized institution, university of applied sciences, college of arts and music or other equally recognized higher education institution.
The studies which you can do with a German student visa are either full-time university studies or preparatory measures before such studies, i.e. Foundation course.
Submit the application for a German student visa at the German embassy or consulate, or other intermediating application agencies in your country. The decision about your application is based on the information and the supporting documents you provide.
These documents have to be sent as originals, accompanied by two photocopies of each.
Two duly completed national visa application forms
Valid national passport
Previous passports
Two recently taken biometric portrait photographs
Proof of admission into a study program
Authenticated certificates of earlier education
Curriculum vitae
Means of subsistence "Finanzieruungsnachweis".
Evidence to show you have enough money to cover living, accommodation and study costs
Covered health insurance
Marriage certificate (Send this if you're married)
Proof of having paid the visa application fee
Proof of German language proficiency
Proof of English language proficiency
Financial Requirements for Studying in Germany
The financial requirements depend on various factors. However, no one can judge the amount it will cost you to study in Germany. Besides, you can get a hypothetical figure for your reference.
The entire study program cost includes the following:
College or program fees
Entrance test fees if any
Visa charges
Accommodation charges
Travel charges to Germany and back
Travel charges within the country
Daily living cost (food, laundry, etc.)
Miscellaneous expenses
Hence, you should consider all the above expenses before deciding to study in Germany.
Health Insurance in Germany
If you plan to study in Germany, one of the things you will need is health insurance because without proof of health insurance you cannot enroll in a German university. German law differentiates between the following groups:
Students from other EU countries who are already insured in their country of origin do not have to insure themselves in Germany. With the European Health Insurance Card (EHIC) they can directly go to a doctor and use their insurance card there.
Students from all other countries have to get insurance in Germany, even if they already have health insurance in their country of origin. The insurance coverage mostly lasts to the end of a semester, contributions are to be paid for the entire semester, even if you leave Germany beforehand or drop out of university.
Those students from other countries, who are below 30 years of age or have not finished the 14th subject-related semester yet may choose between private or compulsory health insurance.
If you want to become a member of private health insurance you need a confirmation of exoneration from compulsory coverage. This exoneration is irreversible during your study visit to Germany. You have to apply for this during the first three months after the start of your studies.
Those students from other countries who are older than 30 years of age or have finished the 14th subject-related semester can only get insurance from a private health insurance company
WHAT TO CONSIDER WHEN VISITING A DOCTOR
In case you want to consult with a doctor, you will have to show him your health insurance card. The doctor will use your card to settle the costs of the treatment with your health insurance. Many doctors in Germany make appointments, so if possible you should try and call in advance to set a date and time for your visit.
WHERE TO BUY PHARMACEUTICALS AND HOW TO PAY FOR THEM
In case you are sick, the doctor may prescribe medicines requiredvisa.jpg for your treatment. The costs of these prescribed medicines are normally covered by your health insurance company, but the insured person has to make a co-payment. Usually, the co-payment is 10% of the price of the medication, but there is a minimum of 5 Euro and a maximum of 10 Euro per prescription. The medicine has to be licensed in Germany.
Some pharmaceuticals are exempt from the co-payment. Please ask your doctor for further information. Over-the-counter medications normally have to be paid by the insured person alone.
The insured person has to present the doctor's prescription at a pharmacy and has to make the co-payment there.
SICK CERTIFICATE
In case you are unable to go to College/ University you have to send a sick certificate to your College/ University Choice of Health Insurance in Germany.
In Germany, there are two types of health insurance (Public and Private health insurance) is available so you can choose one of them during your first three months in Germany. After that, if you have chosen Public health insurance then you have to be with public health insurance during your study period.
HERE IS SOME HEALTH INSURANCE WHICH YOU SHOULD CHOOSE:
DAK
DAK-Gesundheit is one of Germany's most innovative and advanced health care providers. We serve more than 6.6 million members and are the third-largest health care insurance in Germany. According to a recent study by the consumer magazine "Focus Money", university students choosing DAK-Gesundheit can expect the best policy conditions, attractive rates, and premium refunds. You can find us in one of our conveniently located 850 service centers.
AOK
Allgemeinen Orts Krankenkassen, the most widespread Organisation with 15 regional branches having altogether nearly 24 million members. AOK has a special service for students. You can find accessible office locations, directly on-site in many universities and college towns. The AOK Studenten-Service gives you competent, detailed advice when you need it. As Germany's largest health insurance organization the AOK has also the administrative and financial strength to provide excellent medical care at moderate rates.
BARMER
BARMER is Germany's one of the leading health insurance fund. Our dedicated and qualified staff at over 1,000 branches around the country is always happy to help with any questions concerning your health. Personal contact, competent advice, and innovative schemes for our members – that's what we work hard to achieve: with services spanning our health hotline and health magazine, our 24-hour online branch, and attractive additional insurance options.
TK
With TK you can be sure of excellent medical care and in addition receive great services. TK is well placed financially. And this pays off for the members: With the TK dividend, you can receive 80 Euro refund for 2014.
Private Health Insurance
You should find more details about Private health insurance below:
http://www.care-concept.de
http://www.mawista.com
Travelling Health Insurance
When you got your visa and going for stamping for your visa you need traveling health insurance valid till you will be in Germany.
So you have to take traveling health insurance before you fly to Germany. There are so many health insurance companies provide traveling health insurance but some of them are only valid in the German embassy. So you have to be careful to select your traveling health insurance.
Here is the list of health insurance that is valid in the German embassy.
Apollo Munich for the age group of 6 months to 70 years
Bajaj Allianz for the age group of 6 months to 70 years
Chola MS for the age group of 0 months to 70 years
Future Generali for the age group of 6 months to 55 years
HDFC Ergo for the age group of 3 months to 70 years
ICICI Lombard for the age group of 3 months to 51 years
IFFCO Tokio for the age group of 3 months to 70 years
National for the age group of 6 months to 60 years (in Schengen Plan to 80 years)
New India Assurance Company for the age group of 0 months to 60 years
Reliance on the age group of 3 months to 70 years
Royal Sundaram for the age group of 3 months to 70 years
Star Health and Allied Insurance for the age group of 6 months to 70 years
Tata/AIG for the age group of 6 months to 55 years
Oriental Insurance Company for the age group of 6 months to 60 years
United India Insurance Company for the age group of 0 months to 65 years
Universal Sompo for the age group of 0 months to 70 years
You rented a car and got involved in an accident? Is there material or physical damage? Will you have to pay compensation? Let your policy cover that.
You have to select one of the above health insurance policy. Mackwins Education will help you to select the best of them for you. For more details about traveling health insurance please contact our branch office.
Cost of Living (COL) in Germany
It would be hard to get by for less than €1,000 a month in Germany, and this rises to around €1,500€ – €2,000€ in the cities where rents are higher. Students can usually cover living costs for around €850 a month. Travel is fairly affordable, even in big cities, and food and drink prices are average for Europe. An important topic for all people moving to German to consider is health insurance costs.
Average Cost of Living
The average monthly living expenses in Germany (for non-students) is around €1,200, but there are many factors that can affect this, especially location.
The general, rough costs of living in Germany per month for a single person are as follows:
Rent: from €300 (student halls or room in a shared flat) to €700+ (one-bed flat in city)
Utilities: €220 (inc. internet, mobile & TV)
Travel: from €0 (students) to around €100
Food & Drink: €150 to €200
Health insurance: €105 (rate for long-term care for students in a public health insurance provider. For others, it can be more, but can also be partially covered by your employer and come directly from your gross paycheck, if you're employed)
Going out: from €50 to €150 (depending on lifestyle)
Other: €20
Total: from €850 to €1,500
The cost of living in Germany for a couple who share accommodation is about 50% more than this.
560 euros per month
Students pay between 290 and 560 euros per month for accommodation depending on where their higher education institution is located. In some large cities such as Cologne, Munich, Hamburg, and Frankfurt am Main, rents are higher than the average. Most students live in the student hall of residence or a shared flat (WG).
Students in Germany either live in a student hall of residence or private accommodation. We recommend finding accommodation before you arrive in Germany. You'll most likely have to find a place to live on your own because, in contrast to other countries, German universities do not automatically assign rooms to students when they enroll.
STUDENT RESIDENCE HALLS
There are several student halls of residence in every university town. A room in a residence hall is frequently the most affordable accommodation you will find. However, at some universities, rooms in student residence halls are in high demand.
PRIVATE ACCOMMODATION
Like elsewhere in the world, private accommodations can vary enormously. In Germany, you will find everything from empty rooms to fully furnished flats on the market. You can rent a room or an entire flat. There are also rooms available in flatshares.
UNIVERSITY BILLBOARD
As a student, you'll probably have other options when seeking accommodation, so why not use them? For instance, your university will almost certainly offer assistance for foreign students who need apartments.
Culture & Language of Germany
1. The population of Germany is approximately 82 million.
2. In the middle of September in Munich begins the world-famous Oktoberfest beer festival. Parades have begun brewing since 1810.
3. Germany is home to the world-famous composers of classical music. The most famous German composers were: Bach, Handel, Beethoven, Schumann, Mendelssohn, Brahms, Wagner and Richard Strauss.
4. The Germans occupy the third position of the world beer rating (after the Czechs and the Austrians): beer consumption per capita here is about 106 l of beer per year.
5. German athletes won a total of 1662 Olympic medals (as of 2012), i.e. more than any other country in the world except the USA.
6. Germany was the first country in the world to adopt daylight saving time. This happened at the height of the First World War (1916).
7. Almost 70% of German roads have no speed limit.
8. There are more than 300 varieties of baked bread in Germany.
9. German is the third most popular language in the world. It is official in 5 countries: Germany, Switzerland, Austria, Luxembourg, and Liechtenstein.
10. Ulm Cathedral is the tallest church in the world. Its height is 161.53 m.
Language
Over 95% of the residents of Germany speak the German language, whether it is the standard German or any of its dialects. However, the German state has recognized four minority languages, which are the Upper and Lower Sorbian, Romani, Danish as well as North and Saterland Frisian.
Because of the high number of immigration, there are also languages spoken by a sizable number of communities, as Turkish, Kurdish, Russian, Greek. Albanian, Polish, etc.
Germany has a temperate climate throughout the country with warm summers and cold winters, however, long periods of frost or snow are rare. Rain falls throughout the year. The average monthly January daytime temperature is 3 degrees Celsius (38 degrees Fahrenheit) and in July it's 22 degrees Celsius (72 degrees Fahrenheit).
Extremes temperatures sometimes reach -10° C (5°F) in winter and 35 ° C (95° F) in summer months.
During January, the coldest month, the average temperature is approximately 1.6°C in the north and about -2°C in the south. In July, the warmest month, the situation reverses, and it is cooler in the north than in the south.
The northern coastal region has July temperatures averaging between 16°C and 18°C; at some locations in the south, the average is 19.4°C or slightly higher. Annual precipitation varies from 2,000 millimeters a year in the southern mountains to a low of 400 millimeters in the vicinity of Mainz. Over most of the country, it averages between 600 millimeters and 800 millimeters per annum.
Although located mostly at latitudes north of the United States-Canadian border and thus closer to the Arctic Circle than to the equator, Germany's climate is moderate and is generally without sustained periods of cold or heat.
Northwestern and coastal Germany have a maritime climate caused by warm westerly winds from the North Sea; the climate is characterized by warm summers and mild cloudy winters. Farther inland, the climate is continental, marked by greater diurnal and seasonal variations in temperature, with warmer summers and colder winters.