Since the fall of Communism in 1989, the Czech Republic has undergone an evolution becoming one of Europe's most popular destinations for travelers, students, and professionals alike. Join the movement and consider the Czech Republic for your study abroad adventure in Europe.
You'll be joined by tens of thousands of international students (43,000 to be exact) who are seeking education at one of the sixty-eight institutions of higher education scattered across the country.
Although many programs are offered in the Czech language, there are also plenty of programs offered in English, French, and German too. Compared to many other European countries, the Czech Republic is also one of the most affordable.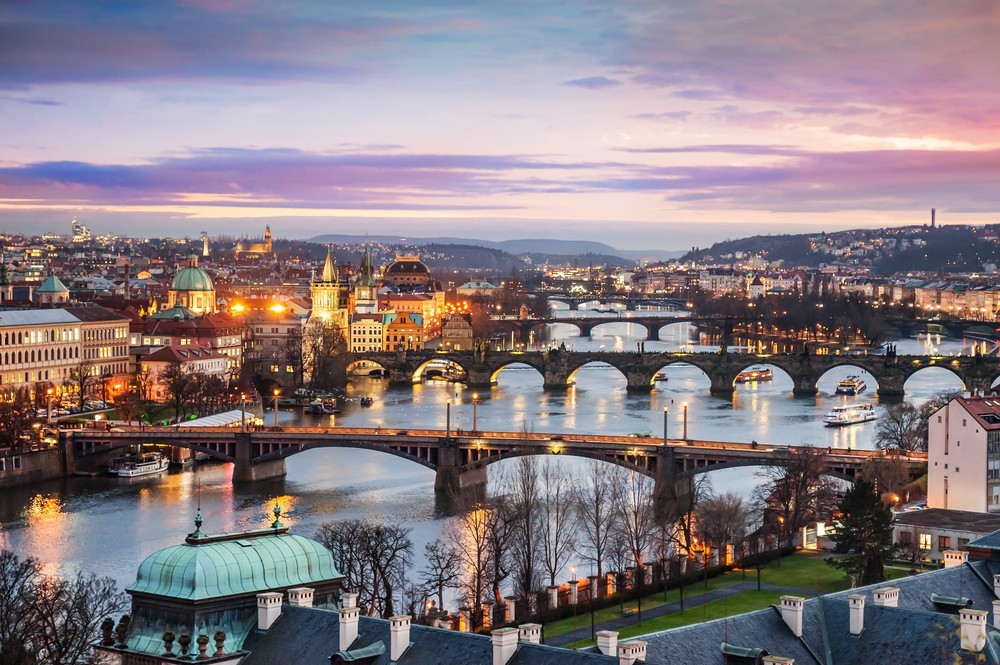 Higher education at public institutions remains free for all nationalities, although there may be certain fees incurred for administration and studying in a language other than Czech.
If that sounds interesting to you, join the over 300,000 students for an adventure of a lifetime in the Czech Republic!
If you're looking for a unique European study abroad experience, look no further than the Czech Republic. Known for its impressive castles, a vast selection of native beers, medieval old towns, and beautiful landscapes, the Czech Republic combines the best of East and West Europe to create its own hybrid flair.
Popular study abroad cities in the Czech Republic includes the capital, Prague, Liberec, Brno, and Olomouc. However, there are many other fascinating locations to choose from as well.
Students are particularly attracted to the Czech Republic for its rich cultural heritage, intriguing history, and exceptional foods and beers. Imagine yourself cozying up with a Staropramen after class with your new, international friends enjoying such Czech delicacies as kulajda or svickova.
Afterward, peruse old, cobblestone streets and visit ancient castles and cathedrals to get a feel of what the Czech Republic used to be like in days passed.
The Czech Republic was also once home to artistic geniuses such as Alphonse Mucha, Franz Kafka, Jaroslav Seifert, and Antonín Dvořák. Once you've touched down in the Czech Republic, you'll see why! A magical and mysterious air will instantly inspire your creative side.
Surrounded by sophisticated architecture and lively people, it'll be hard not to be inspired. Don't believe us? See for yourself! Read through our Study Abroad in the Czech Republic Guide and begin looking for a program that fits your interests today!
The Czech Republic has a long convention of giving quality training. This is clear from one of the most established colleges in the nation being built up in 1348.
A Czech Republic University offers a varied scope of study programs, which empower understudies to pick subjects that they incline toward and have a partiality to.
At the display, there are more than 35000 understudies who have contemplated in the Czech Republic and the number continues expanding due to the open arms arrangement towards leading projects in outside dialects, particularly in English.
The Czech Republic is arranged in the core of Europe. This gives chances to understudies landing here to appreciate Czech culture, as well as to go to other neighboring nations and acclimatize their societies.
Moreover, since the Czech culture is an amalgamation of different societies like Slavonic, Jewish, and German or a rather Austrian impact, understudies can encounter these societies when they get their intermittent breaks between thinks about.
In general a sound picture of instructional foundations identification to 70 together with various levels and very 400,000 understudies discovering in these foundations.
Education System in Czech Republic
Czech advanced education goes back to six hundred years. In 1348 Emperor Charles IV established a college which is the most established scholastic foundation in Central Europe. It is currently called Charles University.
Advanced education is the most elevated amount of training framework. Since 2001 the three-cycle structure has entirely been executed in advanced education (i.e. Bachelor's, Master's, and Doctoral examination programs).
The principle educational cost dialect is Czech, however, the scope of projects conveyed in outside dialects (fundamentally in English) is extending so as to cook for universal understudies.
Higher education institutions are divided into public, state, and private institutions. Public and private advanced education establishments go under the specialist of the Ministry of Education, Youth and Sports, while state foundations (military colleges and the police Academies) are under the expert of the Ministry of Defense and the Ministry of the Interior.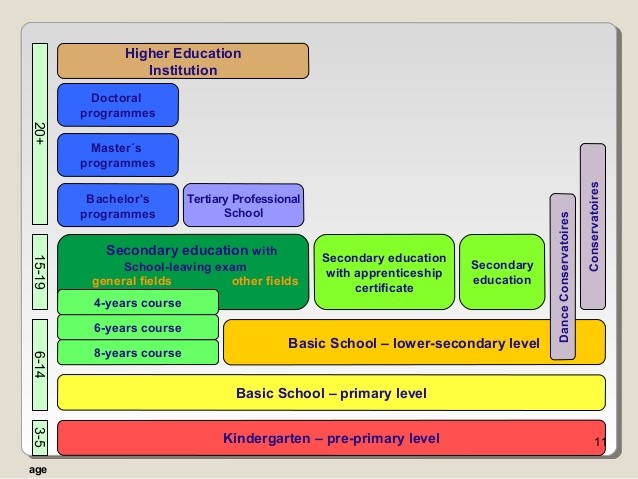 The Czech Republic has 26 public higher education institutions 2 state higher education institutions 44 private higher education institutions.
Students from around the globe are drawn to the Czech Republic for its excellent education system. With approximately 311,000 students, 43,000 of which are international students, Czech universities are among some of the most popular in the world.
The Czech University system also boasts some of the best education on offer in Europe with an emphasis on quality, diversity, accessibility, and relevance. Depending on their educational background, students can choose from a bachelor's, master's, or doctorate degree.
On average, a bachelor's degree program in the Czech Republic lasts from three to four years, while a master's or a doctorate can vary between one and four years.
With a diverse range of study programs, students are also offered the flexibility to choose from a long list of internationally recognized qualifications and specializations depending on their particular interests.
Considering the Czech Republic's long tradition of quality education, it's no surprise that universities in the Czech Republic draw amazing minds from around the world.
The country is especially known for its programs in the sciences, engineering, and medicine. So, if you're up for the challenge, study textile engineering at the Technical University of Liberec, environmental development at the Palacký University Olomouc, or general medicine at Masaryk University. No matter which program you pursue, quality is guaranteed.
Study Programs in Czech Republic
New Double Degree Programs
Save time and money by completing 2 university degrees in 3 years with the new double degree program from leading universities. Two awards from two European countries will enhance your CV, giving you international appeal and multicultural experience in the chosen area of studies.
Foundation Programs
This preparation course is designed for international students who would like to improve their Czech and English language skills for academic studies in public or private universities in the Czech Republic or other countries. Courses are taught by the best professors from CULS (Czech University of Life Sciences) and CTU (Czech Technical University).
Medical Study Programs
Foundation programs in medicine are from the educational programs in the Czech Republic which were designed to provide a student with the knowledge required for the successful entrance of the medical schools. Additionally to the language classes student will be able to study Biology, Chemistry, Physics, and Mathematics.
These classes are intended to prepare a student for the entrance exams and provide the necessary background for comfortable education in the medical faculties.
Medical Career
Exclusive program from MSM that helps people that already obtained a medical degree to start their career in the Czech Republic. It enables to save time since you do not need to start education from the beginning, it is enough to legalize your current diploma. The program was built to prepare an applicant for the nostrification and approbation test.
MBA Programs
The advantages of the MBA program cannot be overestimated. It is a unique chance to gain deeper professional knowledge, which will help you have more opportunities when looking for a job, boost your career, and increase your income. Our internship offers vast possibilities for young specialists helping them gain new contacts, experience, and qualifications with many world-renowned organizations. It also gives you a unique opportunity to explore the most beautiful places in the Czech Republic.
Language Courses
Visit Czech during mid-term holidays and benefit from English language courses with the MSM Academy and British Council. Improve your skills and spend an exciting vacation in the heart of Europe.
Sports Skills and Language Studies
This program helps young people to improve their sports skills, introduces them to real professionals, and gives them invaluable international experience. The perfect combination of sports and language studies.
Higher Education Institutions in Czech Republic
In the Czech Republic, there are 26 public, 2 states, and 34 private higher education institutions. Browse in the list of the accredited institutions below.
See the fields of study that they offer, read through the details to see what they're good at and what they can offer to international students. You can also search on the map of the Czech Republic. Make things happen and study in the Czech Republic!
Public institutions
Academy of Arts, Architecture, and Design
Academy of Fine Arts
Academy of Performing Arts
Brno University of Technology
College of Polytechnics Jihlava
Czech Technical University
Czech University of Life Sciences
Charles University
Institute of Technology and Business in Ceske Budejovice
Jan Evangelista Purkyne University in Usti nad Labem
Janáček Academy of Music and Performing Arts Brno
Masaryk University
Mendel University in Brno
Palacky University Olomouc
Silesian University in Opava
Technical University of Liberec
Tomas Bata University in Zlín
University of Economics
University of Hradec Králové
University of Chemistry and Technology
University of Ostrava
University of Pardubice
The University of South Bohemia in České Budějovice
University of Veterinary and Pharmaceutical Sciences Brno
University of West Bohemia
VSB – Technical University of Ostrava
Private institutions
Academia Rerum Civilium – College of Political and Social Sciences
AKCENT College
Anglo-American University
Applied Psychology College
Architectural Institute
ART & DESIGN INSTITUT
CEVRO Institute
College of Business and Hotel Management
College of Entrepreneurship and Law
College of European and Regional Studies
College of Logistics
College of Physical Education and Sport Palestra
College of Regional Development and Banking Institute – AMBIS
European Polytechnical Institute – Kunovice Campus
Film Academy of Miroslav Ondricek in Pisek
Institute of Hospitality Management
Jan Amos Komenský University
Karel Englis College
Medical College of Nursing
Metropolitan University
Moravian Business College Olomouc
NEWTON College
College of Psychosocial Studies
PRIGO University
Private College of Economic Studies Znojmo
STING Academy
ŠKODA AUTO University
Unicorn College
University College of Business
University College of International and Public Relations
University of Creative Communication
University of Economics and Management
University of Finance and Administration
The University of New York
State institutions
Police Academy of the Czech Republic
University of Defence
Why Choose Czech Republic For Study?
QUALITY EDUCATION
High-quality education and research, especially in Sciences, Engineering, and Medicine, has a long tradition in the Czech Republic. Charles University was founded in 1348 and is the oldest university in Central Europe. Quality assurance of various activities of higher education institutions belongs to the main priorities of the Ministry of Education, Youth, and Sports.
WIDE RANGE OF STUDY PROGRAMS
Czech universities offer long-standing reputations, unique conception and interesting specializations. Students can come for a short study visit or to complete their degree in a wide range of traditional as well as newly-emerging disciplines. You can also see universities and their locations in our portal and on this interactive map.
OFFER FOR INTERNATIONAL STUDENTS
Over 44,000 foreign students are studying at Czech higher education institutions and their interest is growing as the offer of study programs in a foreign languages (especially in English) is increasing. Czech universities are more and more involved in a wide range of international cooperation activities and programs taking place in the European Union and other countries.
SAFE & PEACEFUL LOCATION
Studying in the Czech Republic places you in the middle of Europe and gives you a great chance to travel all over the continent and discover countries and places you might otherwise not have the opportunity to visit. Moreover, according to the Global Peace Index 2019, the Czech Republic ranked the 10th safest country in the world.
FASCINATING HISTORY & CULTURE
Owing to its geographic location, the Czech Republic is situated in the intersection of many cultures. The country's culture was historically formed mainly by Slavonic, German (Austrian) and Jewish influences, which resulted in a rich Central-European cultural heritage and lifestyle. The Czech Republic is sure to entertain you in between your studies!
LOW COSTS OF LIVING
The costs of living in the Czech Republic are not as high as the expenses in Western Europe and life is thus more affordable. For example, $2.5 for lunch in the canteen and $1.5 for bus tickets.
Examination & Grading System in Czech Republic
ECTS, the European Credit Transfer System, was developed by the European Commission to provide common procedures to guarantee the full transferability of credits for university studies abroad in order that they might count towards a final qualification in the home country.
It provides a way of measuring and comparing academic merits and transferring them from one institution to another.
Courses are assigned a number of credits depending on the workload students need in order to achieve the expected learning outcomes.
The workload indicates the time students usually need to complete all learning activities, such as lectures, seminars, projects, practical work, self-study, and examinations required to achieve the expected learning outcomes.
The estimation of workload and the number of credits assigned to each course is regularly checked and can be modified according to findings from the evaluations.
The credit weight is 1/30 of the average student workload during one term. The term usually takes 13–15 weeks. At Masaryk University 60 credits represent the workload required for one year's full-time study or 30 credits per semester. All students are graded on an A–F scale according to the Local Grade Scheme.
Bachelor's and Master's study degrees are realized through hundreds of fields of study. Some of them can be combined with other fields of study (even as an interfaculty study – a combined field from different faculties).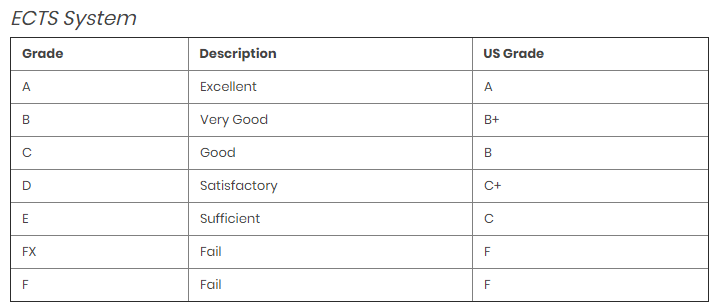 Application Process to Study in Czech Republic
1. Select a Study Program
Although most courses and programs offered at Czech universities are taught in the Czech language, there are hundreds of options for foreign-speaking students across all fields and degree levels, too.
Study programs conducted in the Czech language at public universities are free of charge, but studies in foreign languages are subject to tuition fees. However, the tuition fees in the Czech Republic are usually much lower than elsewhere in Western Europe and the United States. There are also multiple scholarship options for international students coming to study in the Czech Republic.
2. Track Admission Deadlines
The application deadline at Czech universities is usually between February and April, but requirements might differ at different schools, so you should always double-check the specific deadlines and requirements for admission.
3. Prepare Documents
The basic condition for beginning a university degree is successful completion of the previous level of study. You will need to prepare the certificate of graduation from a secondary school to start studying a Bachelor's degree (3 years) and long-cycle Master's degree programs (5-6 years); Bachelor's degree for a follow-up Master's; Master's degree for a Doctoral study program).
Czech universities generally require students to have their previous studies recognized by the Czech authority. The process of recognition of previous studies is called "nostrifikace". Go here to learn more about the process of nostrifikace. More information about the recognition of previous studies is also available on the website of the Czech Ministry of Education.
4. Entry Requirements
Each university is responsible for its own admission process and has various conditions upon which admission is granted. Besides certified copies of your previous education, the minimum entry requirements usually include a completed and submitted application form and payment of application fee (approximately between USD 30-50).
Each university and department might also require applicants to send extra documents such as a letter of motivation, CV, letter of recommendation, English proficiency test scores, portfolio, etc.)
5. Submit Your Application
Most universities use electronic application forms, which guide students step-by-step through the admission process and let them track the status of their application. However, most universities require students to send a hard copy of the application form alongside with other documents by post.
You should therefore always check the specific requirements on the university websites and if you need some advice, you can contact the study department or the international office of the relevant university
6. Appear for the Entrance Exam
Applicants to Czech universities might be invited to sit an entrance exam (if one is required). Entrance examinations are normally held within the period of May to June or July unless the faculty determines otherwise. Entrance exams are usually held on the university campus, but some programs might allow taking the exam from abroad, for example by conducting the interview through Skype.
Entrance exams for English-taught study programs should have proceeded in English. Foreign students who did not attend high school in the Czech Republic and are applying for a study program taught in Czech may be required to take an additional test to demonstrate their Czech language ability.
7. Receive Exam Results
Results are usually announced by the end of June. After receiving the decision, the university might ask you to pay the relevant tuition fee for the first semester, if applicable. Then, you shall receive an official letter of admission and admission confirmation for the visa and accommodation purposes which will allow you to proceed to the last step.
8. Visa Application
Depending on your nationality and status, you might have to apply for a visa or residence permit to enter the Czech Republic. You should start your visa application as soon as you receive the official letter of admission, as the procedure can take up to 60 days if you are from non-EU countries. Read our article about visa issues to find out all the information you need!
9. Flight booking and arrival.
Advantages of Studying in Czech Republic
1. International community
Czech higher education institutions offer an increasing number of study programs and courses taught in a foreign language, especially in English. In 2018, there were over 45,000 foreign students enrolled at Czech universities and colleges.
As a foreigner, you can either choose to study at an international private university located in the Czech Republic or enroll in one of the traditional Czech universities with unique majors taught in English.
3. High-quality education system
Czech education and research have a long history dating back to the 14th century. In 1348, Charles University was founded and became the oldest university in Central Europe. Today, Charles University is ranked 291st in QS World University Rankings 2019 and is followed by other seven Czech universities that have placed in the Top 1000.
2. Diverse study programs to choose from
Czech universities offer a wide range of interesting and unique courses along with well-established and traditional specializations students can choose from.
In addition to the general Undergraduate and Masters programs, many students decide to come to the Czech Republic to do their Ph.D. program there or choose to come for a short time experience via an exchange program, internship, or summer school.
4. Low cost of living
Living in the Czech Republic is more affordable than in other European countries, especially in comparison with the UK, France or Germany. Daily costs ranging from food and accommodation to public transport and personal spending, are at a reasonable level and generally lower than elsewhere in Western Europe.
According to Numero, a single person living in the Czech capital city spends 619 USD on average on expenses other than rent per month. Also, as a student, you can enjoy various benefits and discounts around the country as well as across the European Union.
5. Safety
According to the Global Peace Index, the Czech Republic is among the top 10 safest countries in the world. Traveling and living in the Czech Republic is generally safe for all age groups regardless of gender, nationality, or religion.
6. Location
The Czech Republic is situated in the heart of Europe which gives its residents a perfect chance to easily explore the rest of the continent.
Besides the neighboring countries – Germany, Austria, Slovakia, and Poland – once you study in the Czech Republic, you are only a few hours away from Hungary, Switzerland, Italy or Slovenia.
Plus, the Schengen Area compromising of 26 European states has a common visa policy, which makes crossing borders even easier!
Visa Requirements for Studying in Czech Republic
Depending on your country of origin, requirements may change, but typically citizens from countries outside of the EU are required to apply for a visa to study at a university in the Czech Republic.
In most cases, students will have to apply for a long-term visa for stays lasting longer than ninety days. If you are studying abroad for longer than one year, however, you should apply for a long-term residence permit for study purposes.
Check to see what paperwork is required before submitting your application. The Czech embassy or consulate in your country should have the most up-to-date information regarding what is required. Here's a list of what you should expect:
Application form
Proof of acceptance to studies at a university in the Czech Republic
Valid passport
Proof of financial resources for the stay (i.e. bank statements or scholarship information)
Confirmation of accommodation
Valid international health insurance
Copy of a criminal record report
Note that most documents must be translated into Czech by a translator with an official rubber stamp. Due to time restrictions, you should apply for a study visa well in advance.
The entire process can take up to sixty days. So, don't leave it until the last minute!
Financial Requirements for Studying in Czech Republic
With living costs being some of the lowest in Europe, the Czech Republic attracts a lot of students from around the globe.
Additionally, the Czech universities charge no tuition fees except few cases, but on the other hand, public support is also low.
So, students who want to study in the Czech Republic should think carefully about how to finance their studies. The Czech Republic is not part of the Euro Zone. The currency is the Czech Koruna (CZK), or Kč.
Tuition fees
In the Czech Republic tuition in courses taught in the Czech language is free for all students of all nationalities at public and state TEIs.
There are however some charges and penalties that may be applied. Administration fees of 500 Kč are charged all students on enrolment.
If a student extends their study beyond an additional year, fees of 7,000 Kč per year are then charged for the additional years, except when parental leave is taken. Students enrolling in a second program are charged 2,700 Kč per year.
Since the majority of foreign students take courses in English, most foreign students pay fees. The normal fee for programs not taught in Czech is 27,000 Kč per semester. Private HEIs charge fees, which are set by the institution.
There is a considerable range, depending on the prestige of the program or institution. The typical range is 80,000 to 400,000 Kč per year.
The Cost of Living in the Czech Republic
Living costs in the Czech Republic are significantly lower than in most other EU countries. Total living costs for a student range from 7,000 to 15,000 Kč a month. The variation depends on lifestyle and location. The International Student Card is used to obtain discounts for trains, buses, and internal plane flights.
Most Universities have dormitory accommodation, called koleje. A shared dormitory room is around 2,700 Kč a month. Sharing an apartment may cost 4,000 Kč and a private flat 9,500 Kč. A cafeteria meal is around 50 Kč, a restaurant meal around 110 Kč, and a beer in a pub around 30 Kč.
A loaf of bread is 20 Kč, a kilo of chicken 100 Kč, and a kilo of apples 30 Kč. A movie ticket is 70 to 200 Kč and museum admissions begin at 40 Kč.
Public support
Because of the economic situation in the Czech Republic, there is little support for students beyond free tuition. Only 1% of students receive additional state support. There is an accommodation grant for study at an institution away from the student's home. This amounts to 5,400 Kč per year.
There are social scholarships of 16,200 Kč a year for students in difficult economic circumstances. Child allowances of 700 Kč per month are paid to parents if students are under 26 years of age and if the family income is less than 2.4 times the official subsistence level.
Parents also receive a tax allowance of 13,404 Kč a year or double that if the student is disabled.
Scholarships
There are a variety of scholarships available to foreign students to study in the Czech Republic. The Czech government issues a number of scholarships under various bilateral agreements. These typically range from two to ten months in length and are available for undergraduates, graduates, and Ph.D. students.
There are also scholarships provided by the government under its Foreign Assistance Programmes. These typically include a preparatory year of study in the Czech language, followed by the normal time taken for a Bachelor or long-cycle Master's program. They may also be available for a follow-up Masters or Doctoral study.
The Republic participates in the European Erasmus Mundus program for advanced study at Masters and Doctoral levels. The Czech Republic is a member of the Visegrad Group, which also includes Hungary, Poland, and Slovakia.
Students from these countries may be eligible for Visegrad Fund Scholarships. Individual universities also offer scholarships based on academic excellence and/or need. Details are available from the specific universities.
Student Loans
There is no government-sponsored loan system in the Republic, but some banks do offer student loans. Loans are available for up to 150,000 Kč for deferred-payment loans or to 600,000 Kč if payments begin immediately.
Deferred payments of the loan capital must begin within ten years of graduation and payments of the interest must begin immediately. Security may have to be given.
Student Jobs
Non-EU students with a visa require an additional job permit to work. Permits are for a maximum of two years but can be re-applied for on expiry. However, if they work no more than seven days consecutively or 30 days a year, and are under 26 years old, no permit is needed.
EU citizens may work freely under the freedom of movement provisions of the European Union. However, given the high levels of unemployment in the Republic, work is difficult to find, pay rates are low by European standards, and fluency in Czech is normally required.
Health Insurance in Czech Republic
Health insurance in the Czech Republic is provided through the country's Social Health Insurance (SHI). The SHI requires all businesses to provide workers membership in one of several health insurance funds, to which both employers and employees contribute.
Additionally, the Czech government provides contributions for the unemployed so that essentially the population is universally insured.
All international students are required to hold proof of medical coverage upon entering the Czech Republic. The type of insurance that students are required to hold differs between the following: EU students, non-EU students staying for less than 90 days, and non-EU students staying for longer than 90 days.
EU Student Health Insurance
For students from EU countries, and several other European countries, the Czech government only requires a certified E 128 health form or European Health Insurance Card.
Holding one of these two documents will ensure student's necessary and urgent medical care; students will be treated the same as citizens of the Czech Republic.
Keep in mind that over-the-counter medications must be paid for out-of-pocket and that patients are expected to pay user fees for doctors' visits and other health services.
These expenses are small, however, especially in comparison to other European countries.
Non-EU Health Insurance, less than 90 days
Students not from the European Union who are staying in the Czech Republic for less than 90 days are required to carry a travel health insurance plan.
Non-EU Health Insurance, longer than 90 days
Students not from the European Union who are staying in the Czech Republic for longer than 90 days are required to carry private health insurance. The Czech National Bank has issued special licenses to companies authorized to sell insurance.
Students must carry an insurance plan that is licensed by the Czech National bank; the government encourages students to consult their local Czech embassy or consulate to verify that insurance meets this requirement.
Healthcare
Whether you receive public or private healthcare, the Czech Republic offers a network of hospitals, health care facilities, and private practices that will meet your primary or secondary needs. It is simply up to you to choose the right health insurance plan for you.
Be sure that your plan matches up with your specific visa requirements and that it covers you for the duration of your time in the Czech Republic.
Cost of Living (COL) in Czech Republic
Many people are sure that living costs in the Czech Republic are much more expensive than living in their countries, but this is a myth. Let's look closer to student life in the Czech Republic.
First, there is a system of student benefits, which you may use if you have a study confirmation or an ISIC card. The ISIC system operates in more than 100 countries, the card provides discounts and travel bonuses, discounts for the trips to the museum and cinema, discount for transport in and out of the Czech Republic.
Transport
The cost of a travel ticket for those who are over 26 years old is 550 CZK per month (22 EUR), for students with ISIC card or study confirmation 130 CZK (5 EUR).
With this travel ticket, you can ride on all types of transport an unlimited number of times during the month. Students also have discounts up to 50% for the international directions.
Accommodation
Living costs in the Czech Republic for student accommodation in a dormitory range from 4,500 to 6,000 CZK (180-250 EUR).
The cost of renting a one-room apartment in the center is 14.000 CZK (560 EUR), in the countryside – 11.000 (440) per one-bedroom apartment. You also may rent a large apartment with friends, then the average price of the room will be 5000-6500 CZK (200-250 EUR).
Food
The amount of money you will spend on food vary from 4,000-8,000 CZK a month. The most affordable option is to buy the products and cook at home (150-200 EUR).
If you have an ISIC, you can eat at Menza (student dining room) twice a day, with an average lunch/dinner fee of 2-3 EUR.
The average bill for lunch in a cafe/restaurant is 200 CZK (8 EUR), a luxury option for those who are willing to spend more than 7,000 CZK per month (280 EUR).
Health care
Health care in the Czech Republic is free, with semi-annual/annual insurance. The cost of insurance is from 400-600 CZK. Plus you have the right to return your money through insurance (refund from 50% to 90% of the amount) if you have kept your check while buying a medicine.
Living costs in the Czech Republic for the students' life are:
The budget option (dormitory, meals at home, or in the dining room, travel, mobile communication, weekly cultural rest/gym) is 400 EUR.
The luxury option (room in a rented apartment, home and cafe food, travel, mobile communication, weekly cultural rest/gym) is 650 EUR.
And don't forget that the studies at the state university are free of charge, plus the mandatory scholarship for each student's stay up to 2000 CZK and the possibility of a part-time job (up to 20 hours a week), with payments from 6,000 to 10,000 CZK per month.
Accommodation in Czech Republic
The popular budget option for students to live is in dormitories. Most universities in the Czech Republic offer international students the opportunity to live on campus in student accommodations owned by the universities themselves.
If you prefer a little more space, you can also rent a private flat or single room in a shared flat for a reasonable price. Expect to pay the following per month:
Student Dormitory – around 150 USD
Private Room – from 250 USD
Private Apartment – from 450 USD
These prices are most likely to vary depending on location. If you are living in a more populous city, you can expect to pay more.
Culture & Language of Czech Republic
The Czech kingdom dates back to the 13th century. Under the rule of Charles IV, who established the University in 1348, it also becomes a serious player in the academic field. However, between the early Middle Ages and today, the Czech Republic has gone through some major changes.
At the end of World War I in 1918, Czechs declared independence, and Czechoslovakia was established as a sovereign country. The years that followed were prosperous ones for the new nation and Czechoslovakia quickly became one of the most developed countries in the world.
The onset of World War II, however, split up the nation, and Czechoslovakia became three different states. After the war, Czechoslovakia regained its statehood, albeit with less territory. In 1946, the Communist Party took over and from that point, the country was led by the Soviet Union until the Velvet Revolution in 1989.
The new revolution was fueled by students and intellectuals who were tired of the Communist regime and demanded free elections. Finally, in 1992 Czechoslovakia split into the Czech Republic and Slovakia. Later, the Czech Republic would join the European Union in 2004.
The official language of the Czech Republic is Czech. Spoken by nearly 11 million native speakers, Czech is classified as part of the Slavic branch of Indo-European languages. Although many people in the Czech Republic have a base knowledge of the English language, knowing a few key phrases in Czech will take you far.
Climate in Czech Republic
The climate in the Czech Republic is moderately continental, with cold winters, during which the temperature is often below freezing, and warm summers, during which nights remain cool.
Precipitation is fairly frequent, but it's not abundant in most of the country, amounting to around 400/500 millimeters (15/20 inches) per year.
However, being scarcer in the winter months (when plants are at rest) and more abundant in late spring and summer, it is generally sufficient for agriculture.
The only moderately rainy areas are found in the Sudetes Range, where precipitation exceeds 1,000 mm (40 in) per year, at the foot of the same mountain range (in Ostrava, the precipitation reaches 850 mm or 33.5 inches per year), and in the south-west, along the border with Germany and Austria.
During winter, from December to February, in Czech cities, temperatures hover around freezing (0 °C or 32 °F) or just below, the weather is often dull and cloudy, and light snowfalls can occur.
On the contrary, outbreaks of cold from Russia can bring intense frosts, with temperatures dropping to -20/-25 °C (-4/-13 °F) in the worst moments.
In spring, from March to May, the weather is unstable, and the first warm days alternate with the return of cold weather: frosts and snowfalls can still occur in April, especially in the first part of the month.
There's usually a turning point in the second half of May when the maximum temperatures regularly reach or exceed 18/20 °C (64/68 °F), and the weather becomes enjoyable.
Summer, from June to August, is usually warm. There is a moderate amount of sunny days, during which showers or thunderstorms can erupt in the afternoon. Even in mid-summer, there can be cool and rainy days, with highs around 20 °C (68 °F), but also hot periods, during which the temperature may exceed 30 °C (86 °F) for a few days.
However, temperatures are usually pleasant, with highs around 22/24 °C (72/75 °F) and lows around 12/13 °C (54/55 °F).
Autumn, which goes from September to November, is initially pleasant in the first half of September, and then becomes progressively more cloudy and cold, with fairly frequent rains.