Why Choose Ukraine For MBBS Study?
MBBS in Ukraine. The Ukraine Government is very keen on the improvement and development of medical education in the country. The medical universities get constant help from the Ukraine government for maintaining the standard of education.
The students who graduate from a Ukraine Medical University can work in any part of the world. Here are some of the factors that attract foreign students to get their MBBS degree from Ukraine:
The quality of education and infrastructure in Ukraine medical colleges is very good. The government is always there to help the universities in resolving research and financial issues in education. The expense of MBBS in Ukraine and accommodation is very low.
No donation is required to be paid by the student for getting admission in a medical college in Ukraine. Many extracurricular activities and sports activities are held in the medical colleges that keep the students fit and active. The students are encouraged to take part in various seminars and international conferences.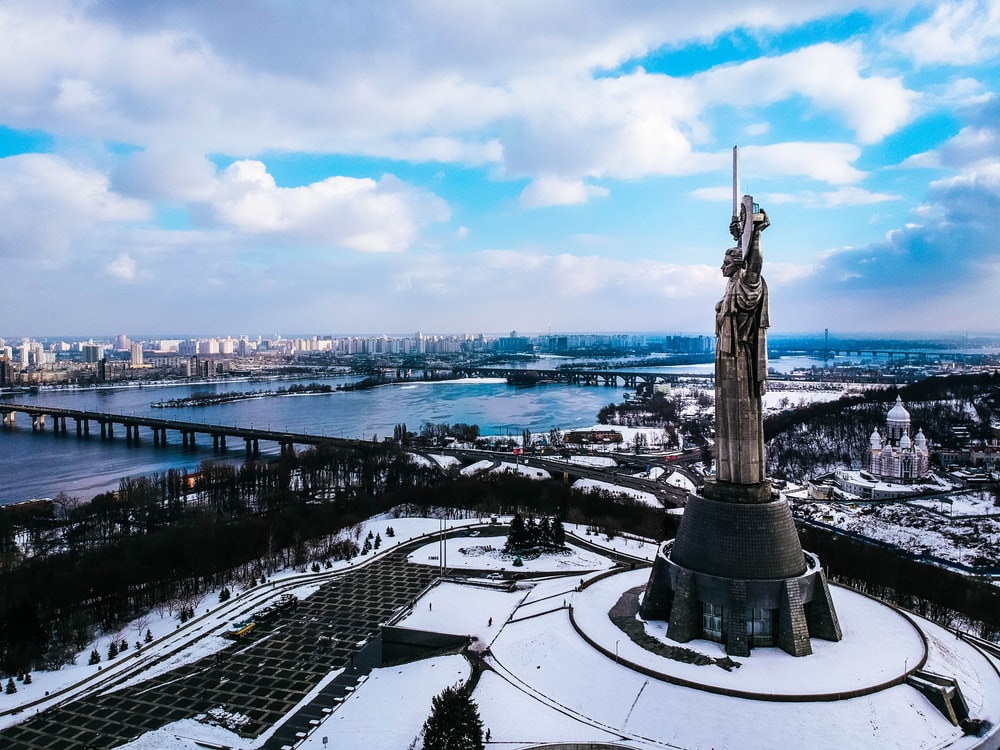 The Ministry of Education and Science of Ukraine manages all the medical universities of Ukraine. These medical universities of Ukraine offer the best value for medical education for students from around the world in terms of quality, infrastructure, and cost.
Ukraine has become one of the most preferable destinations for aspiring students who want to study MBBS in abroad. The medical universities of Ukraine are recognized by WHO, UNESCO, MCI, and medical councils of many other counties.
The medium of instruction in Ukraine is English which makes it much easier for international students to adapt to the environment. The cost of accommodation is very low as compared to other countries like the USA, UK, and many European countries. Apart from this, travel for students in Ukraine is very cheap. Students get special discounts for traveling within the country.
The medical colleges of Ukraine offer high-quality facilities to the students. The students studying MBBS in the universities of Ukraine are provided with various opportunities to participate in international exchange programs, conferences, and other scientific projects in various international universities which opens more doors for them to achieve their goals in the field of medicine.
Indian students who complete their MBBS from a Medical University of Ukraine can easily get a job in India as the MBBS degree obtained from a Ukraine University is recognized by the Medical Council of India (MCI).
Education System in Ukraine
Elementary Education
Elementary education starts at the age of six and is four years in length. The cycle is further subdivided into two phases: A basic phase 1 (grades one and two) that focuses on adaptation to school through play, while phase 2 (grades three and four) focuses on developing responsibility and independence.
Children are admitted to school based on their place of residence. Each school serves a specific geographic area and guarantees seats for all school-age children residing in the area. There are no separate entrance examinations.
Basic Secondary Education (Middle School)
Basic secondary education lasts five years (grades five to nine) and is open to all pupils who successfully completed elementary education. The general core curriculum includes subjects like Ukrainian language and literature, foreign language, history, mathematics, biology, chemistry, physics, physical education, music, and art.
Assessment and promotion are primarily based on examinations. At the end of ninth grade, students sit for final state exams. Those who pass are awarded a "certificate of completion of basic secondary education" (svidotstvo pro bazovu zagal'nu serednyu osvitu). The grading scale used at all levels of schooling is the 12-point scale.
Upper-Secondary Education (Specialized Secondary Education)
All graduates of basic secondary education are eligible to enroll in upper-secondary school. Under the new regulations that will be in place by 2027, upper-secondary education will be three years in length (grades 9 to 12) instead of two years (grades 9 to 11). This will align the Ukrainian system with the 12-year systems found in most of the world.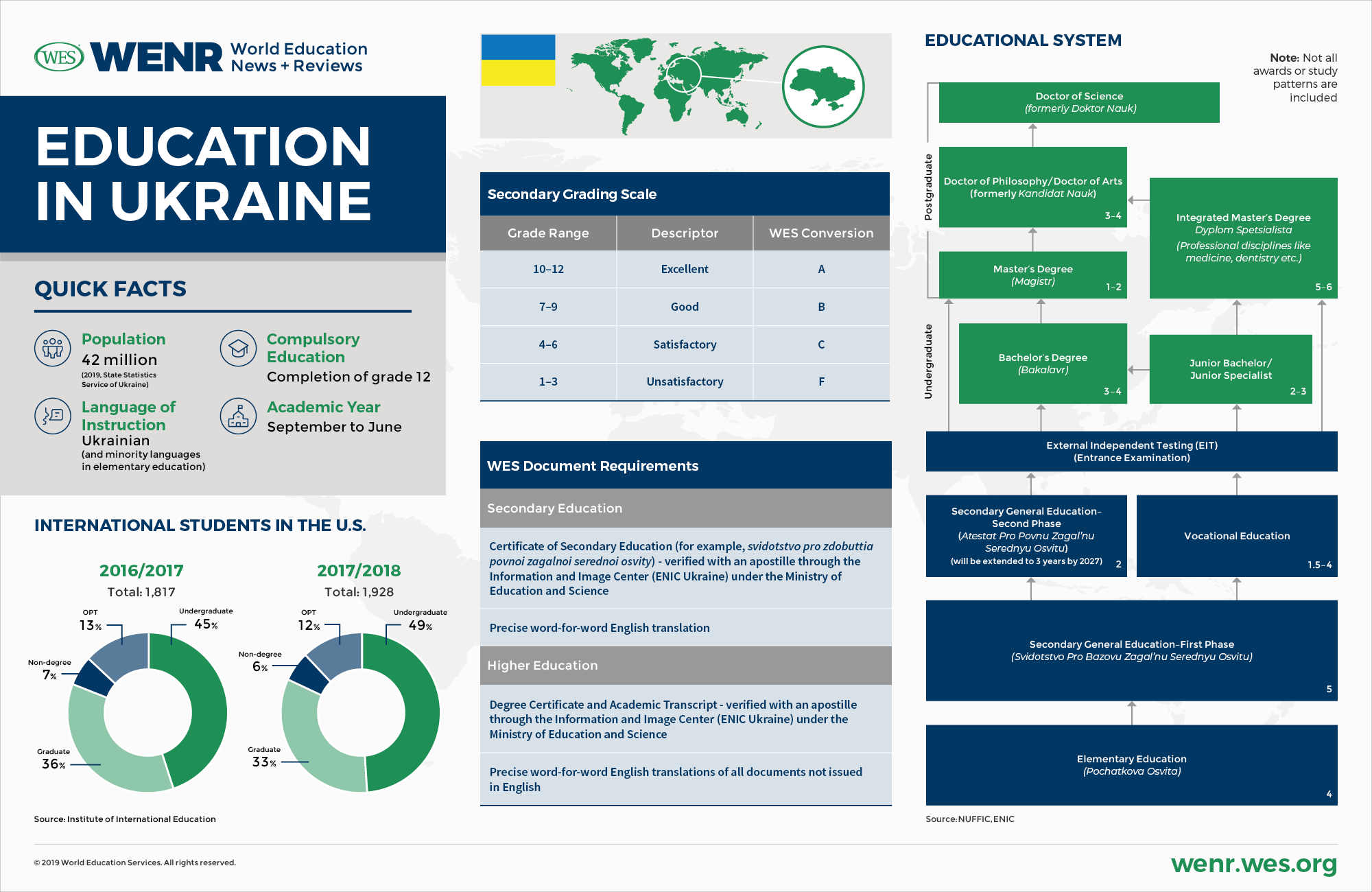 Higher Education Degree Structure
Ukraine's 2014 law on higher education sets forth the degree structure outlined below. The last year that students could be admitted into Junior Specialist and Specialist programs was 2016, so this structure will soon be universal throughout Ukraine. One of the main changes is that the old Specialist programs, which were a legacy of the Soviet system and usually lasted five or five and a half years, have been split into two cycles. Instead of long single-tier programs, studies are now organized in an Anglo-Saxon style Bachelor and Master structure.
Junior Bachelor (Molodshyi Bakalavr)
The Junior Bachelor is a first-cycle, short-term program requiring 90 to 120 ECTS credits. While it is meant to replace the Junior Specialist, the Junior Bachelor is different in that the Certificate of Completed General Secondary Education or a completed Junior Specialist Diploma is the mandatory minimum admission requirement according to legislation, whereas some Junior Specialist programs could be entered after nine years of school.
Bachelor (Bakalavr)
Bachelor programs take three or four years (180–240 ECTS) to complete after upper-secondary school, with four years being more common.
Master (Magistr)
Admission into master's programs requires a Bachelor or Diploma of Specialist at minimum, but individual HEIs may also demand entrance examinations or interviews. Programs are up to two years in length (90 to 120 ECTS) and conclude with the defense of a master's thesis and state examinations.
Doctor of Philosophy/Art and Doctor of Science
There are two types of doctoral-level qualifications in Ukraine that build upon each other and are placed at levels 9 and 10 of the Ukrainian qualifications framework, respectively.
Professional Degree in Medical Fields
As in other European countries, professional degrees in medicine, dentistry, pharmacy, and veterinary medicine have been excluded from the Bologna reforms in Ukraine and continue to be offered as long, single-tier programs.
Medical programs are six years in length (360 ECTS), whereas dentistry, pharmacy, and veterinary medicine are typically five years (300 ECTS). These qualifications are pegged at the same level as the master's degree in the Ukrainian qualifications framework.
Medical programs lead to the award of the Doctor of Medicine (also referred to as Specialist until recently). After completion of the six-year general program, graduates must complete a mandatory clinical internship one to three years long in a medical specialty before they can practice.
Physicians who have practiced for at least three years after completing the internship can then undertake further clinical residency training in their specialty or train in additional specialties. The clinical residency program lasts two to four years (120 to 240 ECTS). Study programs in dentistry are structured similarly.
Medical Universities in Ukraine
Medical education has many areas of study and after graduating from a medical university you become a medical graduate in the relevant field.
This factor plays a major role from which country and which medical university a medical student has graduated.
Is that medical university is recognized by WHO or not because foreign students have to sit for an exam in almost every country which enables them for practicing in that country and it is international regulation.
List of Medical Universities in Ukraine
1. Kharkiv National Medical University
2. Dnipropetrovsk State Medical Academy
3. Ukrainian Medical Stomatological Academy
4. Crimea State Medical University
5. Odessa State Medical University
6. Kyiv National Medical University
7. Vinnitsya National Medical University
8. Zaporozhye State Medical University
9. Lugansk State Medical University
10. Donetsk State Medical University
11. Lviv National Medical University
12. Ivano Frankivsk National Medical University
13. Ternopil State Medical University
14. Bukovinian State Medical University
15. Sumy State University(For Medicine)
16. National Pharmaceutical University Of Ukraine
17. Kharkiv Medical Academy For Post Graduation
18. Kyiv Medical Institute Of Ukrainian Association Of Folk Medicine
19. Kyiv Municipal Medical Institute
20. Krasnograd Medical Institute
21. Kharkiv State Zoo Veterinary Academy
22. Lviv Institute Of Veterinary Medicine
23.V.N Karazin Kharkiv National University
Admission Process to Study MBBS in Ukraine
The admission process for studying MBBS in Ukraine has become very simple and easy. Exams like IELTS, SAT, or TOEFL are not required for the students to study MBBS in Ukraine. Students would need to follow the admission process given below for admission to MBBS in Ukraine.
First, you need to select the University according to your choice and budget from the list of available medical universities in Ukraine.
Fill up the application/ registration form for the University which you have chosen.
Send scanned copies of your mark sheets for class 10, class 12 and NEET exam mark sheet along with passport and aadhar card to the university with application charges.
You will receive the admission confirmation letter from the university once your admission is confirmed.
The immigration procedure will begin after your MBBS admission is confirmed.
You would then need to arrange and send the documents for visa and deposit visa processing charges.
Then, students would need to apply for an invitation letter.
Students should visit the Embassy of Ukraine in Delhi after they get the invitation letter.
After you complete the visa process and get a visa in hand, you can book a ticket and fly to Ukraine.
We will provide you with the pick-up and transport facility from the airport to your university hostel and will also assist you in the remaining admission process.
Following is the list of documents required for MBBS admission in Ukraine
Completed application form
10th Mark list and Certificate or a notarized copy of the certificate, or a translated copy of the
Complete Secondary School Certificate in Russian/Ukrainian language, certified by a notary from the Ukrainian Embassy in student's country.
12th Mark list and Certificate or a notarized copy of the certificate, or a translated copy of the Complete Higher Secondary School Certificate in Ukrainian/ Russian language, certified by a notary from the Ukrainian Embassy in student's country.
Birth Certificate in English or translated into English and notarized.
Passport with a minimum of 2 years validity (with clearly visible pages of the photograph, date of birth and passport validity (date of issue & expiry)).
10 photographs (4.5 x 3.5 cm, with minimum 70% face part visible)
Respective medical university's Official Invitation Letter
Medical Health Certificate
HIV Test reports
Official Bank documents confirming full payment of 1st-year tuition fee (required by some universities only)
Ukrainian embassy's legalization for all the documents
The Ministry of External Affairs, New Delhi, must have authorized all archives.
Visa Requirements for Studying in Ukraine
After the enrollment procedure is complete, the student will receive original invitation/admission letter of enrollment, and all documents that are necessary for the Student Visa request.
Here's a list of basic requirements for Ukraine Student Visa
Fully furnished Visa Application form
Original valid passport
3 photographs (3x4cm)
Original invitation letter sent to you by express post
Medical health certificate
Health insurance documents
HIV/AIDS Report
Certificate of Completed Higher and/or Secondary Education*
The above documents should be translated to Ukrainian or Russian languages and legalized from ministry of foreign affairs of your country, before applying to the embassy. This is a general list of requirements for obtaining your Ukraine student visa. A complete list must be obtained by contacting the Ukrainian Consulate in your jurisdiction as requirements vary for each Consulate.
Processing time
The average processing time for visas is 1 to 15 days. However, you can always speed up the process by making special request officially.
Cost of Living (COL) in Ukraine
General Costs of Living in Ukraine
Entertainment
Most of the festivals and other events around Ukraine are quite affordable. If you want to go to Western concerts, that's a whole different story.
However, most of the entrance fees for domestic events are just a couple of dollars. Movies are out of the question—95% of theaters don't show English movies (or do so very rarely).
Transit
A twenty minute taxi ride is $2. A metro ride in Kiev (anywhere in the city) is about $0.16. Yes, you read that correctly—sixteen cents. Some of the busses can be a little bit more, but it's rare they're more than $0.25.
Buying a car is expensive.
Food
When it comes to eating out, there are lot more options out there. Look at a couple of actual examples.
You have the option of either two courses or three. Three courses was 190 UAH, with two courses coming out at 160 UAH. With a three course meal, you got a choice of multiple salads (with steak), a couple of soups, and an entree (lasagna, marbled beef, beef and eggs, and a couple other varieties that rotated in and out).
If you got a two course meal you'd get your pick of one of the soups or salads.
All of those meals also included a choice of juice, and garlic bread with butter—some of the best bread I've ever had in my life, to be frank.
Considering that BEEF is one of the top restaurants in Kiev, being able to get a three course meal for the rough equivalent of $7 USD is a perfect example of how inexpensive the cost of living in Ukraine is.
Lodging
The Cost of an Apartment in Ukraine (For foreign students)
The cost of living in Ukraine when it comes to accommodation is always going to be higher when you're a foreigner. Yes, it is more expensive and we are well aware of it.
Generally speaking, during the peak seasons in Kiev, a foreigner should probably expect to pay over $1,000/month for a one bedroom apartment in the center of Kiev.
This should include all utilities (water, electricity, internet), it often includes 1-2x a week of cleaning, and will usually be done through an agency like AirBNB. Offseason prices may take this down by nearly half.
Accommodation In Ukraine
There are different types of accomodations students can choose from among the following. Take a look below.
The University Campus
The most popular and economic way of living is in the university hostel.
Private Apartment
This is the best option for those who want to be completely autonomous and free to host friends and family. All apartments are furnished and equipped with kitchen utensils.
Student Apartment
This option allows students to share an apartment with other students (foreign and Ukrainian). Apartments are well equipped and furnished.
Family-stay
Living with an Italian family is a good way to practice the language and experience the Ukrainian way of life. All families are used to hosting foreign students and willing to share with you their daily routines and traditions.
Other Solutions
It is also possible to reserve accommodations in hotels, residence or religious institutions.
Housing Arrivals Service
Are you looking for housing option? Would you like us to arrange apartment, family or hotel for you? If you are worried about arrival or accomodation then we can help you arrange it.
We provide housing and arrival service for students who request it at the time of Enrollment. For more information about accommodations, please contact us.
Culture & Language of Ukraine
Language in Ukraine
Ukrainian is the official state language; it is a language of the East Slavic subgroup of the Slavic languages. The language shares some vocabulary with the languages of the neighbouring Slavic nations, most notably with Belarusian, Polish, Russian and Slovak.
The Ukrainian language traces its origins to the Old East Slavic language of early medieval state of Kievan Rus'. In its earlier stages it was called Ruthenian. The language has persisted despite several periods of bans and/or discouragement throughout centuries as it has always nevertheless maintained a sufficient base among the people of Ukraine, its folklore songs, itinerant musicians, and prominent authors.
Ukrainian Society and Culture
The People
Ukrainians are of Slavic origin. About 75% of the population is ethnic Ukrainian. The largest minority group is the Russians at about 20%. Belarussians, Bulgarians, Poles, Hungarians and Romanians make up the other major minority groups.
Religion
Approximately 40% of the population in the Ukraine describe themselves as atheist. Of those that do adhere to some form of religion, 37% belong to one of the three major orthodox denominations present in the country. There are also a significant and growing number of Jews, Protestants and Muslims.
Despite the large numbers describing themselves are atheist, Ukrainians are extremely superstitious. If you do something that they believe can cause harm such as sitting on stone steps, someone will undoubtedly tell you that you risk doing great harm to yourself as a result of your actions. Superstitions are derived from folk wisdom in rural communities.
Fatalistic
Ukrainians live in a country where everyday life is often unpredictable and unstable and they have learned to adapt to constantly changing rules and laws. The influences of the Russian Orthodox Church plus a long history of turbulent economic times, unstable governments, and adverse climatic conditions produce a rather fatalistic approach towards life.
Generosity
Ukrainians are extremely generous and hospitable. All social occasions include food. Visitors are always offered something to eat as well as a beverage. It is considered the height of rudeness to eat in front of another person and not offer them something.
The climate of Ukraine is moderate. Summer is hot and dry with occasional rains and thunderstorms. Winter is rather mild without severe frosts but with snow-falls everywhere. The rivers and lakes freeze in winter.
Ukraine is rather a big country, that's why its climate is different in various regions of it. Of course, the hottest region is in the South.
In the central part of the country the climate is moderate and continental. The climate on the territory along the Black Sea and the Sea of Azov is warmer.
The Crimean and the Carpathian mountains protect the country from winds. The coldest part is that in the North and in the North-east.
And now let's characterize every season of the year in our country in general. Autumn is warm at the beginning but later it gets placed, it often rains.
Winter sets in December with its cold and heavy snow-falls and winds. The average temperature is about 15 – 20 degrees below zero. But it often happens that winters are mild and rainy and this is the most unpleasant time.
In spring the weather is changeable. It may be cold and windy, sunny and rainy on one and the same day. In summer the weather is usually warm, sometimes hot and dry. The temperature is about 25 – 30 degrees above zero. The warmest months are July and August.
They say the climate in Ukraine like anywhere else is getting milder coming with every year. In the last few years all the scientists agree that something very serious is happening to the climate and weather of Ukraine and the whole world. It depends on many reasons.