Why Choose Georgia For MBBS Study?
About Georgia
Georgia is a European country located at the intersection of Eastern Europe and West Asia. This country shares its borders with the Black Sea in the west, Russia in the north, Turkey and Armenia in the south and Azerbaijan in the Southeast.
The capital of Georgia is Tbilisi which is known for its diverse architecture and mazelike, cobblestone streets. The major area of the country is covered with mountains.
Georgia has maintained good relations with its neighbors and is a member of the United Nations, the Council of Europe, the World Trade Organization, and the Organization of the Black Sea Economic Cooperation.
In addition, it is also a member of the Organization for Security and Cooperation in Europe, the Community of Democratic Choice, the GUAM Organization for Democracy and Economic Development, and the Asian Development Bank.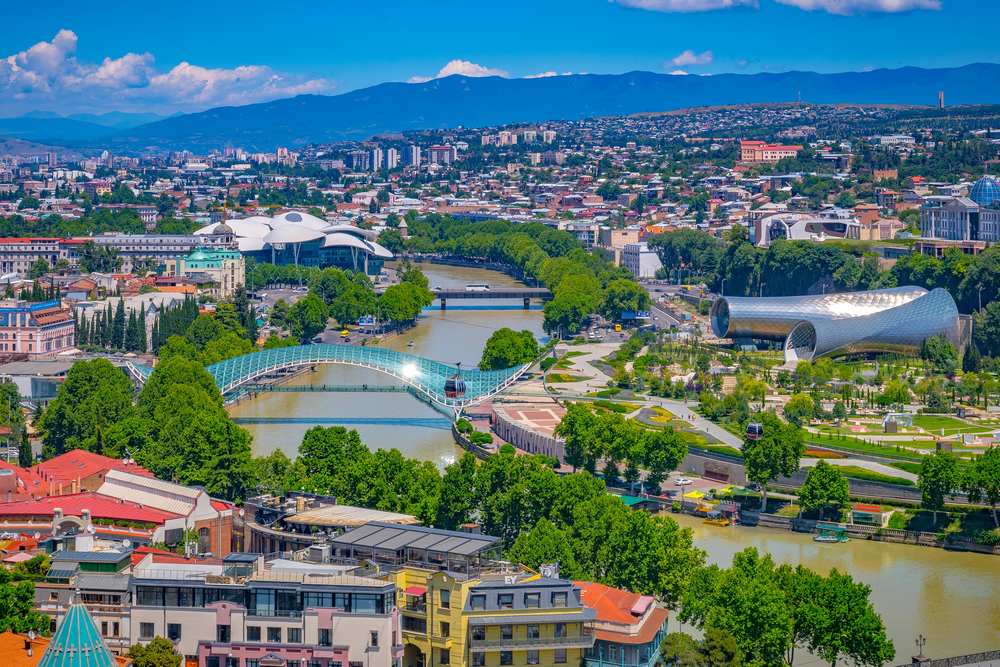 MBBS in Georgia
Georgia has successfully achieved 100% of literacy and is considered to be the best place for studying medicine in the world. The medical universities of Georgia are the premium and the best option for any student who wants to study MBBS abroad.
The admission process for studying in Medical college in Georgia is very simple and hassle free. Students are not required to take any entrance test. The admission is done on the basis of the marks obtained in class 12th.
After completing your MBBS from Georgia, you can directly apply for a screening test to get license to practice. The Medical universities and colleges in Georgia offer rich quality education with affordable cost as compared to other foreign countries.The facilities and infrastructure provided to the students are world class.
The medical universities of Georgia have got a worldwide recognition and offer high standard infrastructure and education. The medical universities of Georgia are recognized by MCI and WHO. The students obtaining MBBS from Georgia are eligible to work on any part of the world.
Education System in Georgia
Higher education in Georgia consists of three stages:
Bachelor program, Master's program, and Doctorate program.
Educational program in the institution of higher education during one educational year includes averagely 60 credits. The educational program of the first stage of teaching (bachelor) consists of no less than 240 credits.
The first stage of higher education may include an educational program of teacher training. Only holders of state certificates confirming full general education or persons equalized with them have a right to study in a bachelor program. The educational program of the second stage of teaching (master) consists of no less than 120 credits.
Only bachelors or persons with degrees equalized with them have a right to study in a master's program. Medical/dentist educational program is a one-stage higher education program that ends with awarding the academic degree of certified physician/dentist.
Academic degree received after completing an educational program of a physician with 360 credits or dentist with 300 credits, is equalized with an academic degree of master. The third stage of studying (doctorate program) consists of no less than 180 credits. Only masters or persons with degrees equalized with them have a right to study in doctoral programs.
After completing each stage of higher education, the respective diploma is issued. Institution of higher education is authorized to award the student with intermediate qualification, in case of completing a part of the educational program.
Awarding an intermediate qualification is allowed after reaching results in studying, defined for completing a part of an educational program which should not be less than half of the credit number defined for an educational program.
Types of higher education institutions:
In Georgia, three types of higher education institutions are active:
University
Institution of higher education which carries out higher education programs of all three stages and scientific researches
Teaching university
Institution of higher education which carries out higher educational programs/programs (except doctorate programs). Teaching university necessarily carries out educational programs of the second stage – master program or programs.
College
Institution of higher education which carries out only a first stage educational program of higher academic education.
Medical Universities in Georgia
Medical education (MBBS/BDS) in Georgia is high in demand because of the good climate, quality of education, and the future scope. Hence, the MCI has published a list of approved universities in Georgia.
Students can apply for and study MBBS in these universities without worrying about eligibility certificate or any other documentation. All students who have cleared the NEET exam can study in the approved universities.
MCI has approved 22 universities in Georgia. Do note that not all universities featured in the MCI's list are good at teaching. So, do your research and choose your institution wisely.
List of Private and State Universities
Akaki Tsereteli State University
European University
University of Georgia
Ivane Javakhishvili Tbilisi State University
Teaching University Geomedi
David Agmashenebeli University of Georgia
David Tvildiani Medical University
Euroregioinal Teaching University LLC
Georgian American University
Georgian National University
High Medical School "Ayeti"
Kutaisi Medical Institute "Kutaisi"
LLC Caucasus International University
Batumi Shota Rustaveli State University
New Vision University
Petre Shotadze Tbilisi Medical Academy
Tbilisi Medical University "Hippocrates"
Tbilisi Open Teaching University
Tbilisi Public University "Metekhi"
Tbilisi State Medical University
"AIETI" Medical School
As a student, you should make sure that the university you choose for Study MBBS in Georgia is included in this list. MCI might not approve your education if you study in a university that is not present in this list.
Admission Process to Study MBBS in Georgia
The admission procedure in the medicine course in Georgia is very simple. Refer the steps below to understand how it is done:
REQUIREMENTS FOR DEGREE PROGRAMS
International Passport (all pages)
School leaving Certificate
Admission/Offer Letter Processing fee + CABLE VISA FEE: 550USD
REQUIREMENTS FOR MASTERS PROGRAMS
International Passport (all pages)
School leaving Certificate
Bachelor Degree
Transcripts
Admission/Offer Letter Processing fee + CABLE VISA FEE: 550USD
ADMISSION / OFFER LETTER
Once required documents accepted and approved and payment is received, Admission/ Offer Letter issued within a couple of days.
VISA LETTER
You count 15-20 days after receiving the scanned copies of Admission/ Offer Letter in your email, before receiving the CABLE VISA is out from Georgian Border/ Immigration Authorities. Once you have a scanned copy of your CABLE VISA, you can immediately fly to Georgia. Make sure to bring the following documents with you:
Admission/ Offer Letter from Georgian University (scan copy)
International Passport
Original School leaving Certificate/ Results (For Undergraduate Degree Students)
Original Bachelor Degree/ Results (For Masters Degree Students)
Original Masters Degree (For Ph.D. Students)
Transcripts Original or Copy (For Masters & Ph.D. Students)
Original Birth Certificate
Original Police Clearance Certificate
Original General Health/ Medical Certificate with HIV as Negative
Complete Tuition fee in Cash, as advised
Complete Hostel/ Accommodation fee
ARRIVAL and ENTRY
We need the arrival details at least 3-5 days prior to your arrival. Once you purchase your to and fro Air Ticket, immediately scan it to us so we make arrangements to paste your Entry Visa in your Passport, your Airport Pickup, and Georgian Border/ Immigration Clearance.
You must declare or pay your tuition fee at the airport before Entry Visa is pasted into your international passport.
Visa Requirements for Studying in Georgia
There are distinctive classes of visas that will apply while traveling to Georgia. Regardless of whether you are intending to go on a visit, study or work and dwell there forever, you should apply for a different Georgian Visa, as needs.
Long-term visa might be issued with the privilege of different passages to Georgia for 90 logbook days or one year period of validity and stay.
It would be ideal if you take note of that all archives required for a visa ought to be submitted through the VFS Global portrayal. If you don't mind visit the official site of the Consular Department of MFA Georgia to discover point by point data with respect to the visa methodology.
Link: MFA Georgia
Note: Once the application is submitted in VFS Center and installment receipt is produced, the candidate needs to transfer checked installment receipt in Georgia online entry, and refreshed application frame should be submitted in VFS focus.
Require Documents For Visa Application For Study In Georgia
Visa application finished, marked by the candidate and if relevant: Authorization (for the third individual). In the event that the candidate is a minor: Visa application marked by the legitimate gatekeeper and if material: Authorization (for the third individual)
Travel Document issued inside the most recent 10 years and the legitimacy time of the travel archive should surpass the legitimacy time of the visa by no less than three months; it might not be harmed and should not contain informal records; it shall contain at least two empty pages to place a visa.
Copy of Tickets purchased for travel or booking of such tickets (when traveling with an appropriate means of transport).
Proof of accommodation in Georgia (e.g. A rental agreement for accommodation; hotel reservation; invitation by which the inviting party confirms that he/she provides accommodation to the alien; any other document confirming the existence of accommodation in Georgia).
Proof of financial funds during the travel and stay in Georgia (e.g. bank statement for the last three months duly stamped and signed by the bank; receipt of a grant/study financing; a sponsor's letter; any other document confirming availability of financial funds).
Travel and health insurance shall be valid for the period of stay in Georgia, which, if necessary, will cover any expenses related to his/her health status and death. The travel/health insurance shall be valid all over Georgia.
Passport Photo (SIX)
A document confirming the purpose of the alien's travel to Georgia.
The document evidencing payment of the penalty if an alien was imposed a penalty under the legislation of Georgia for staying in Georgia without legitimate grounds.
Cost of Living (COL) in Georgia
Transportation
A ticket for public transport vehicles (Bus and Metro) costs 0.50gel ($0.20) for everyone. However, students with "student cards" pay only 0.20gel ($0.09) for a ticket. Each ticket is valid for 1.30hr. Within the 1.30hr validity frame, a ticket holder can enter any public vehicle for FREE with the ticket card.
Yandex and Taxify exist in major Georgian cities for everyone who prefers to use a taxi. Taxis charge about 5Gel($2) for a 7km journey. And cars are affordable for those who prefer to purchase a vehicle while studying in Georgia.
Tuition Fees
The average tuition fees of MBBS (Medicine) program in Georgia is $6,000 per academic year and $4000 for Non-MBBS Programs such as Business, Health Sciences, Social Sciences, Engineering, and Technology.
Monthly Rent
We recommend students to budget $300 – $500 per month for accommodation in Tbilisi city center. And $200 – $350 for accommodation outside Tbilisi.
Restaurants
Everyone agrees that food is cheap in Georgia. Most of the good restaurants offer delicious meals for affordable prices. Here is a rough estimation of some popular foodstuffs in Tbilisi. 1kg Beef – 16gel($6.5), 1kg Potato -1.40gel($0.60), Bread 1gel ($0.40),
Shoe and Clothes
Student Cards (Students get discounts and sales offers occasionally using this card).
Monthly Utilities
The Average cost of utility bills in Georgia for international students during the warm season is $50 (120Gel). And $100 (240Gel) in Winter.
Optic Internet 30MB- 36Gel (Same in Winter)
Water, Light, and Sanitation – 44 Gel (Same in Winter
Gas – 40Gel (130Gel in Winter)
These prices can be higher or lower depending on the diligent/extravagant habit of the student.
Leisure and Fun
Many of the tourist attractions in Georgia are free for access. However, some require visitors to pay an entrance fee.
Billiard Board 7gel($3/hr), Zoo Ticket -3gel($1.40), Top Night clubs-10gel ($4), Local Daily Tours from Tbilisi – <120gel(<$50), Male Haircut -20gel($8) for hairline saving barbers, Pedicure <100gel(<$40),
Students enjoy discounts on the entrance fees to access some of the tourist attractions in Georgia.
Hostel/ Accommodation in Georgia is managed by some universities, while in some universities, students stay off Campus and are completely responsible for their wellbeing.
There are good hotels with basic equipment and a conducive environment suitable for students. International students who are applying to study in Georgia need to be aware of the accommodation state of the country.
They are expected to ask and or know if the particular institution they are applying for handles the accommodation process. Students can find accommodations for different prices in Georgian cities.
It depends, what requirements they have. If they are looking for cheap accommodation, they can choose home-stay in a hospitable Georgian Family, Monthly price starts from ₹9,240.
The average price for the apartment of 40-60m2 starts from ₹16,620 per month, the apartment can be shared by several students. Also, there are some hotels and the daily prices start from ₹3,700.
It is necessary for all the students to sign an agreement with the landlord as it will be submitted to the local Migration authorities as proof of residence for the issuance of the Residence Permit.
Culture & Language of Georgia
The program in Georgian Language and Culture incorporates several areas of study and offers comprehensive training in the language, literature, folklore, cultural anthropology, and history of the region.
Georgian Language course is an essential part of the program; it is designed primarily for students and postgraduates who are interested in studying non-Indo-European languages and traditional cultures of the Caucasus.
The basic textbook for the Georgian course is the Essentials of Georgian Grammar. In addition, the teaching materials include documentaries and slideshows about the history and ethnography of the region.
The course uses the methods of oral and situational language teaching, elements of task-based pedagogy, and grammar-translation and audio-lingual methods.
Rules of grammar are practiced through the texts introduced in the following order: translation exercises and original Georgian short stories, popular folk tales, and anthropological essays. Major attention is focused on translating sentences and texts into and out of Georgian.
A strong emphasis is given to the Traditional Clothing of Eastern Georgians. Artist N. Brailashvilithe's historical and cultural contexts of the development of Georgian literary tradition and folk culture.
Because of the specific geopolitical position, over the course of its history, Georgia has mediated between the European and Asian worlds, between the North and South. Georgian culture, literature, historiography, and art are viewed as reflections of these diverse cultural contacts.
The course gives students an opportunity to become acquainted with the language, history, traditions, and contemporary life of Georgia.
The climate of Georgia is mild and rainy on the coast and in the western plain, while it is more continental and arid in the central and eastern inland areas. In the mountains, it is obviously colder.
The best times to visit Georgia are spring and autumn, especially from mid-May to mid-June and from mid-September to mid-October. Since autumn is very rainy in the coastal area, here, you may prefer spring.
The best period for a beach holiday, and also for hiking in high mountains, is, of course, the summer, from June to August, when it can get hot in Tbilisi and in inland valleys (but those who can stand the heat can choose this season to visit the whole country).
In winter: the plains and the coast, bring warm clothes, such as a sweater, a jacket, a hat, and a raincoat or umbrella. For high mountains, bring mountain clothing, hiking boots.
In summer: bring light clothes for the day, a sun hat, a light sweatshirt for the evening, and possibly an umbrella for the afternoon rains. For the coast, bring light clothing, a light sweatshirt for the evening, a scarf for the breeze.
For the mountains, bring spring/autumn clothes, a sun hat, a sweater, and a jacket, hiking shoes, and a raincoat or umbrella; for the highest peaks, bring mountain clothing.