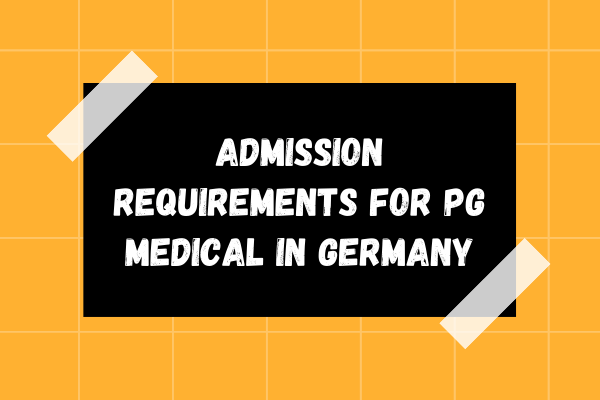 PG medical course in Germany is one of the ideal courses for Indian doctors. The system has simply designed a roadmap for doctors to follow and fulfil their dreams of becoming skilled doctors. Germany is well known for its medical advancements and has amazing earning opportunities. One can earn up to 10,000 euros per month.
To achieve your dream to study in Germany, one has to follow specific steps and manage the requirements to pursue PG medical in Germany.
Admission requirements for the PG medical in Germany
A1 and A2 Level of German language levels
Get an admission letter from a government-approved test for TELC B2 and TELC C1.
Learn German up to C1 Level.
Get an Observer-ship from a German hospital approved for your PG in Germany
Go through the 'Approbation system' by getting yourself registered as a German Medical Practitioner.
You have to manage your own residency till your approbation application is approved.
Documents required for PG medical In Germany
In order to study PG medical in Germany, you need to have the following documents:
Marksheet of class 10th and 12th
Birth certificate
Passport
Flight tickets
Payment to the national centre account
Copy of passport translated into the German language
Copy of certificates translated into the German language
Passport-sized photos
Offer Letter from a German PG university
Medical reports on vaccination and clarity on any virus
Bank statements for proof of funds
Scholarship details, if any
The language learning process can be cumbersome for many students. Language competency is a challenge for many students but once you start learning, it becomes easy every day. To serve your services as a doctor, one needs to learn the language of foreign to communicate in the best manner to his/her patient.
Learn more about studying PG medical in Germany and get us on call to explain the course structure and fee structure as well.