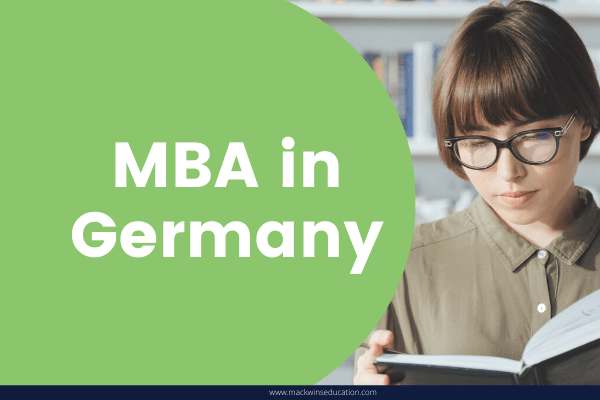 Many international students are loving Germany only because of its education quality & practical approach in studies.
Germany has world-class facilities of MBA universities and dual programs in MBA.
This article highlights the best reasons to study MBA in Germany without any doubt for the 2019 year.
Checkout 7 reasons to pursue MBA in Germany:
1. Quality business schools
Do you know that two of Germany's b-school ranked in the top 100 global MBA ranking 2017 published by financial times? Manheim business school & ESMT Berlin are some of the top business schools in the world.
Apart from that, Germany also provides an executive MBA program for students who want to settle their career in being entrepreneurship.
To see the syllabus, click this link and explore the current practices for the program.
2. Range of specialization to select from
Germany offers a wide scope of specializations, for example, Marketing, HR, Finance, Innovation and Entrepreneurship, Leadership, International Marketing, Strategic Management, Global Management, International Healthcare Management, Technology Management, Entrepreneurial Management, Information Management, and so forth.
Likewise, there are a few distinct kinds of MBA offered in Germany, for example, Dual MBA, General Full-time MBA, Executive MBA, and Part-time MBA.
3. Affordable cost of living and low tuition fees
Germany is a suitable choice for individuals who wish to seek after MBA abroad.
The educational cost charge for the business colleges is commonly more affordable than USA and UK. The average fee for a first MBA year is approx. 6-7 Lacs.
As far as living costs, Germany has the lowest cost of living. Every month a student needs approx. 600 Euros to spend on his/her expenses including food, travel, and leisure.
4. Part-time working allowed
For any international student, part-time earning is the best thing to cover for your living expenses. Knowing basic knowledge of the local language is important.
A student can earn upto 10 euros per hour and can go upto 18 euros if he/she has good local language knowledge.
5. MBA without GMAT
GMAT is an important entrance exam to take admission in MBA. However, there are some universities that don't ask for the GMAT entrance exam. They give you more marks on your work experience and internship projects.
6. High MBA salaries
Germany is the 7th best nation on the planet as far as MBA pay rates offered by the businesses. WHU Otto Beisheim School of Management has a yearly mean MBA pay of $99,000; Mannheim Business School offers a yearly mean MBA pay of $113,000 for MBA graduates. The normal pay of MBA graduates filling in as Business Development Managers in Germany ranges from $41,411-$84,149; of Project Manager in its field ranges from $69,299-$78244; of Marketing Manager ranges from $37,400-$69,914, and of Financial Analyst ranges from $42,615-$62,333.
7. Higher recruitment rate
Germany has a bunch of multinational companies from various industries like software industries, financial institutions & consulting firms. It is the country with a higher recruitment rate. Thus, perfect country for getting a job.
For any queries related to MBBS in Russia, we are just one call away.
Take free counseling from our counselors. Call 8866071721 or mail us at [email protected]