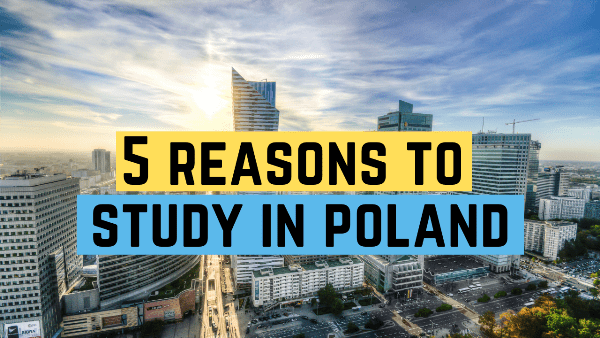 Poland provides a high quality Polish education system. The country has a history of 650 years in the education system and Warsaw university is an example of its system being the number one top coder international IT ranking.
Polish doctors, engineers, architects, and IT specialists are highly acclaimed by recruiters worldwide. Poland is the best country to study engineering and IT courses.
There are around 457 universities in Poland and universities like Warsaw University of Technology, Jagiellonian University, and the University of Gdansk are great universities in Poland, which are also well-respected in the academic and scientific world.
5 Reasons To Study In Poland
1. High-quality universities
Poland has more than 450 universities where bachelors and as well as master courses are being taught in English, German and Dutch. The universities have huge research centers as well as outstanding experts from a wide array of fields. There are top 3 universities in Poland which every student look into:
2. Top Universities In Poland
1. University of Warsaw
The University of Warsaw is one of the largest institutions in the world. It offers more than 20 programs that are taught in the English language such as Economics, Engineering, Business, and Political science.
Many international students have won Nobel prizes due to their excellent world-class education.
2. Jagiellonian University
Jagiellonian University is a public higher education institution first founded in 1364. With 4,063 academic teachers and almost 500 distinguished professors, JU provides more than 100 professionally focused course areas in the most notable fields. The university provides full-time and part-time courses in over 80 fields of study.
3. Adam Mickiewicz University
Adam Mickiewicz University is one of the major polish universities. There are four Nobel prize winners are associated with the university.
Bachelor's programs are taught in English, Polish, and German whereas, master's courses add Dutch to that mix, and Ph.D. research positions are also available in an array of languages.
2. Low Tuition Fee
Apart from Germany, Poland has many universities which are under state and has the lowest tuition fees. In comparison to other countries in Europe like the Netherlands or Finland, Poland stands for economic studying and living.
The tuition fees start from 1500 Euro per year and go higher till 3000 Euro. Also, the cost of living is very low. The student dormitory room starts from 100 Euro. A shared flat cost is around 300-400 Euro.
Also, the transportation cost is also very low. Poland has a very good network of public trains where you only have to pay 25 Euro for whole day roaming tickets.
3. Fast-growing Economy
Poland is an emerging country in Europe and has acclaimed popularity among students. Moreover, the country is best for living, studying and culture is quite vibrant. Apart from that, according to the European Commission's forecast, Poland's GDP was around 5.1% in 2018 which has been increased since 2004.
4. Great Culture And Environment
Poland's culture is known for its achievements and heritage all around the world. There are a lot of festivals, book fairs, sports and music concerts that happen in the country. The country is welcoming to all international students. Also, Poland hosts the football championships.
5. No Language Barrier
There are many English courses available for international students, so you don't have to speak Polish. In addition to that, more than 450 universities are providing approx 3000-5000 courses in English. What else we need?
Final Thoughts
We saw 5 reasons to study in Poland by which it is proved that Poland is truly a capable country to give you quality education, a good job, security, low cost of living and accommodation.
It is a good country to consider your studies if you think France, Netherlands or Italy is expensive for you. Poland is especially good for engineering and aircraft courses. Moreover, you don't need a high IELTS score so you can definitely enter into any bachelor's or master's courses in Poland.
If you still have any doubt, write an email with your educational documents and know your admission probability, or simply just call us on +91 8866071721 for a detailed inquiry.